June 30, 2006
June 28, 2006
June 26, 2006
June 25, 2006
Movie Night
Last night, my cousin had me over for a movie night. Got over there to discover that they had Chinese food, and pizza, ready to be devoured and washed down with ice cold beeah. Hey, it may be rough, but I figured I could help out by getting rid of some of that stuff for them. After chow, we sat down to watch a couple movies, one of which came highly recommended. Hah.
Here's a tip... do not ever watch "Syriana." Seriously. That has got to be one of the worst movies ever. And I'm not saying that because of the leftist lean of the movie. Hell... I don't care about that. The story itself sucked dog balls. The scenes jumped back and forth at an insane pace, and it took almost the whole movie to tie everything completely together. It was a waste of time, talent, and energy. The fact that Amanda Peet was in the movie didn't even help... and that's bad.
Supposedly, there is a message to the movie, but about all I could get out of it is that our government plays Gott with the Middle Eastern nations, even to the extent of taking out innocent leaders. And because of our interference, good people are driven to turn to terrorism. They aren't bad folks, they just have nowhere else to go.
If you got something else out of it, cool. I won't be watching it again to try and interpet anything else.
After shaking off that crap, we salvaged the evening watching Kate Beckinsale in Underworld: Evolution." Ah... now there was a story I could follow! Not to mention that Beckinsale's character looked pretty good: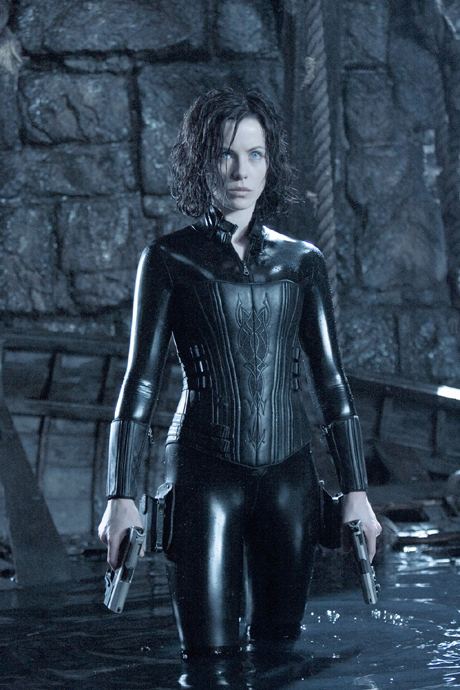 Especially, from behind.... yeeeoowwww!!!
Tonight, I'll be going back over there... we're going to watch a documentary about The Flora-Bama, a roadhouse that used to sit on the Florida-Alabama state line. Sounds pretty interesting.
This may be my last post until I get home on July 4th, but I'll do my best to keep up with everyone. Keep stopping by... I'm sure there will be some new content in the meantime, thanks to the baby sitters: Eric, Harvey, RSM, and Zonker.
June 24, 2006
June 23, 2006
June 21, 2006
June 20, 2006
June 19, 2006
June 18, 2006
June 17, 2006
June 16, 2006
June 15, 2006
June 14, 2006
June 13, 2006
June 12, 2006
June 07, 2006
June 06, 2006
June 04, 2006
June 03, 2006
June 01, 2006