February 03, 2008
Delirious?
Didn't sleep much last night. Not sure why, other than my brain never shut off. I'm not saying that it ever actually engaged... it was just stuck in the "ON" position.
Today, they're calling for rain. I type this as the sunlight blasts through my blinds. There are plenty of clouds in the sky, so there's a decent chance that it will happen later... it rained off and on for most of the night. Normally, that's relaxing...
I lay awake for long periods of time last night, just thinking. I'd been over to Eric's site, earlier, and he always seems to make folks think. Well, think and wonder. Whereas, I just tend to make folks wonder. Anyway, I was thinking about a post he had written about his dad and lessons he taught, and I got thinking of my childhood... and then my thoughts really started to wander.
While pondering lessons learned as a youngster, the rain falling steadily, I found myself thinking of the hog barn and the sows farrowing. And then the radio playing softly in the background, to keep the hogs at ease. The radio was set to WMAQ, 670 AM... and this was long before it became talk radio. It was still country at that time. "WMAQ is gonna make me rich!!!" They also played the White Sox games on air.
All night long, someone would be out in that barn, with the Statler Brothers, Dolly Parton, Crystal Gayle, Hank Williams, Johnny Cash, Willie Nelson and other country "greats" sharing the warm smells of fresh straw and newly hatched piglets. The last year we did this, I remember "Every Which Way but Loose" was a hit... Eddie Rabbitt.
Now I'm thinking of the rabbits that we used to raise. Both for meat and show. Ma used to do some serious butchering on some rabbits. She and my pa had fined tuned it, and when Pa passed away, it didn't slow her much. Skinning and butchering were an art form.
Same with ducks and chickens (I thought I'd blogged it before, but I can't find it)... you get her and my (third) cousin's ma together, and they were a force to be reckoned with. (Yeah, that's a preposition hanging there...) They'd have tiles, field tiles (which are round tubes), standing on end... that was to bleed them out. Cut a head off, stuff'em in a tile, cut a head off, stuff'em in a tile. Next thing you know, they'd have'em dunked (in boiling water) and plucked. Then cut and gut... washed out, bagged, and you've got chicken in the freezer. 'Twas an impressive sight...
Ma and a good friend of hers also set up another disassembly line, once those little piglets got older. CASTRATION. One held the little boar wannabe, while the other sliced, stitched, and disinfected. Luckily, there was no saving of the oysters. I remember listening to the squeals of the little bastards, and then, once they were put down to go on their way, the new barrows walking away like nothing had happened.
I thought I heard thunder, but I can't tell if that's a train, or if it really is one of the gods whimpering. (The gods aren't nearly as vocal, out here, as they are back home.) But the thunder gets me jamming on one of my all time favorite tunes. I've been listening to this album alot, lately. It's a great way to jumpstart your day.
Now Eddie Rabbit is back... and I'm stuck with his tune. It's not a bad song, but c'mon... jumping between Slayer and Rabbitt? Raining Rabbits...
What the hell was the point of this yammering??? Oh yeah, I didn't sleep much. Perhaps I'm a little delirious. I don't know.
Eddie Rabbitt. Slayer. My Ma... the Rabbit Slayer.

Thank you for attending this morning's services. Don't forget to pay me your tithes and offerings.
Cookies will do, too...
Second thought: Maybe the message of this post was, "Don't jack with my ma. You'll be cut up and in the freezer before you know you're dead."
And maybe not...
January 27, 2008
103, Feverish
My last remaining blog faddah, Harvey, has torn himself away from his other blog long enough to tag me with another stupid meme... one that claims you have no life if you've seen 85 of these movies.
I've seen it before, and ignored it, but being the outstanding blogson that I am, I decided that I'd do it for the old bastard.
SUPPOSEDLY if you've seen over 85 movies, you have no life.
Mark the ones you've seen. Copy this list, check the movies you've seen, add them up, and include the number in your post title.
(x)Rocky Horror Picture Show
( ) Grease
(x)Pirates of the Caribbean
(x) Pirates of the Caribbean 2: Dead Man's Chest
( ) Boondock Saints
(x) Fight Club
(x) Starsky and Hutch
( ) Neverending Story
(x) Blazing Saddles
(x) Universal Soldier
(x) Lemony Snicket: A Series Of Unfortunate Events
( ) Along Came Polly
(x) Deep Impact
(x) KingPin
( ) Never Been Kissed
(x) Meet The Parents
( ) Meet the Fockers
( ) Eight Crazy Nights
(x) Joe Dirt
( ) KING KONG
Total so far: 12
( ) A Cinderella Story
( ) The Terminal
( ) The Lizzie McGuire Movie
( ) Passport to Paris
(x) Dumb & Dumber
( ) Dumber & Dumberer
(x) Final Destination
( ) Final Destination 2
( ) Final Destination 3
(x) Halloween
(x) The Ring
( ) The Ring 2
( ) Surviving X-MAS
(x) Flubber
Total so far: 17
(x) Harold & Kumar Go To White Castle
( ) Practical Magic
( ) Chicago
(x) Ghost Ship
(x) From Hell
(x) Hellboy
(x) Secret Window
( ) I Am Sam
(x) The Whole Nine Yards
( ) The Whole Ten Yards
Total so far: 23
(x) The Day After Tomorrow
(x) Child's Play
( ) Seed of Chucky
( ) Bride of Chucky
( ) Ten Things I Hate About You
( ) Just Married
(x) Gothika
(x) Nightmare on Elm Street
( ) Sixteen Candles
(x) Remember the Titans
( ) Coach Carter
(x) The Grudge
( ) The Grudge 2
(x) The Mask
( ) Son Of The Mask
Total so far: 30
(x) Bad Boys
( ) Bad Boys 2
(x) Joy Ride
( ) Lucky Number Slevin
(x) Ocean's Eleven
(x) Ocean's Twelve
(x) Bourne Identity
( ) Bourne Supremecy
( ) Lone Star
(x) Bedazzled
(x) Predator I
(x) Predator II
( ) The Fog
(x) Ice Age
( ) Ice Age 2: The Meltdown
( ) Curious George
Total so far: 39
(x) Independence Day
(x) Cujo
( ) A Bronx Tale
( ) Darkness Falls
(x) Christine
( ) ET
(x) Children of the Corn
( ) My Bosses Daughter
( ) Maid in Manhattan
( ) War of the Worlds
(x) Rush Hour
(x) Rush Hour 2
Total so far: 45
( ) Best Bet
( ) How to Lose a Guy in 10 Days
( ) She's All That
( ) Calendar Girls
( ) Sideways
(x) Mars Attacks!
(x) Event Horizon
( ) Ever After
(x) Wizard of Oz
(x) Forrest Gump
( ) Big Trouble in Little China
(x) The Terminator
(x) The Terminator 2
(x) The Terminator 3
Total so far: 51
(x) X-Men
(x) X2
(x) X-3
( ) Spider-Man
( ) Spider-Man 2
( ) Sky High
(x) Jeepers Creepers
( ) Jeepers Creepers 2
( ) Catch Me If You Can
(x) The Little Mermaid
(x) Freaky Friday
() Reign of Fire
(x) The Skulls
(x) Cruel Intentions
(x) Cruel Intentions 2
( ) The Hot Chick
(x) Shrek
(x) Shrek 2
() Shrek 3
Total so far: 63
( ) Swimfan
(x) Miracle on 34th street
(x) Old School
( ) The Notebook
( ) K-Pax
(x) Kippendorf's Tribe
( ) A Walk to Remember
( ) Ice Castles
(x) Boogeyman
( ) The 40-year-old-virgin
Total so far: 68
(x) Lord of the Rings Fellowship of the Ring
(x) Lord of the Rings The Two Towers
(x) Lord of the Rings Return Of the King
(x) Indiana Jones and the Raiders of the Lost Ark
(x) Indiana Jones and the Temple of Doom
(x) Indiana Jones and the Last Crusade
Total so far: 74
( ) Baseketball
( ) Hostel
( ) Waiting for Guffman
( ) House of 1000 Corpses
( ) Devils Rejects
(x) Elf
(x) Highlander
( ) Mothman Prophecies
( ) American History X
( ) Three
Total so far: 76
( ) The Jacket
( ) Kung Fu Hustle
() Shaolin Soccer
(x) Night Watch
(x) Monsters Inc.
(x) Titanic
(x) Monty Python and the Holy Grail
(x) Shaun Of the Dead
( ) Willard
Total so far: 81
( ) High Tension
( ) Club Dread
(x) Hulk
(x) Dawn Of the Dead
( ) Hook
( ) Chronicle Of Narnia The Lion the Witch and the Wardrobe
( ) 28 days later
( ) Orgazmo
(x) Phantasm
(x) Waterworld
Total so far: 85
(x) Kill Bill vol 1
(x) Kill Bill vol 2
(x) Mortal Kombat
( ) Wolf Creek
( ) Kingdom of Heaven
(x) The Hills Have Eyes
( ) I Spit on Your Grave aka the Day of the Woman
( ) The Last House on the Left
( ) Re-Animator
(x) Army of Darkness
Total so far: 90
(x) Star Wars Ep. I The Phantom Menace
(x) Star Wars Ep. II Attack of the Clones
() Star Wars Ep. III Revenge of the Sith
(x) Star Wars Ep. IV A New Hope
(x) Star Wars Ep. V The Empire Strikes Back
(x) Star Wars Ep. VI Return of the Jedi
( ) Ewoks Caravan Of Courage
( ) Ewoks The Battle For Endor
Total so far: 95
(x) The Matrix
(x) The Matrix Reloaded
(x) The Matrix Revolutions
() Animatrix
(x) Evil Dead
(x) Evil Dead 2
(x) Team America: World Police
(x) Red Dragon
(x) Silence of the Lambs
( ) Hannibal
Total: Breakfast cereal
or 103
None shall be tagged, but if you want to kill some time, you can feel free to lift it.
January 17, 2008
Lahdle Oddle Oddle
Someone doesn't like me, putting me in the same category as terrorists, Hillary, and the NY Slimes. I guess that's what happens when you're as nice of a guy as yours truly. (That would be me that I'm referring to...)
I merely shared a friendly little ditty, and I become the equivalent of a serial killer.
Just no pleasing some folks...
January 07, 2008
Crowded
I've been to hell. I spell it...I spell it dmv
Anyone thats been there knows precisely what I mean
Stood there and I've waited and choked back the urge to scream
And if I had my druthers, I'd screw a chimpanzee-call it pointless
- Primus
I've got an appointment with the
DMV
for Thursday, so I decided to do a bit of recon. You know, time it out, make sure I know exactly where it is. I also figured to pick up the rule books so I can ace the tests.
Holy crap...
I've been from the country, and smaller towns, all of my life. What I saw today blew me away...
I walked into the office, and found it to be crammed full. No seats available, standing room only. As a matter of fact, there were folks standing outside.
And how many people were crammed inside?
I kid you not... there had to be almost two hundred. Seriously, if that's an exaggeration, it's only slight. What a frickin' cluster!!!
Me, being as good with crowds as I am, I executed a sharp about face and evacuated the premises. Damn near had an anxiety attack.
How the hell does a person keep from freaking out???
January 06, 2008
Counting... Pennywise?
January 02, 2008
Rapture
Stuck in my head all day was this bass line...

January 01, 2008
New Year
So, how did you welcome in the New Year?
I got back in to Fresno yesterday. Finished the trip that I'd started the day before. Delays, mechanical failures, and the airlines being kind enough to "accommodate" me by flying me into LAX to catch a different flight here... and not taking into account that the other flight took off while I would be deplaning. Anyway, I'm back. Safe, sound, and sane.
Alright, safe.
'Twas great being able to head home, hang with family and friends, and to renew my war upon my liver. We (my liver and I) are not in negotiations, right now...
2007 made its brief appearance on the road of life, and is now officially roadkill, its mantle fluttering to the tarmac. Tiny little Elisha Oh-eight has boldly stepped out and picked it up... poor, unfortunate bastard. Won't be long, and he will be smucked as well...
As for celebrating Mr. 007's demise, I can only say that I didn't. I couldn't.
I had planned on watching The Shining (one of my favorite movies over the holidays), but I couldn't keep my eyes open. 'Course, that may have had something to do with the large supper I had made for myself. And the beers and bottle of wine that I "disposed" of, while cleaning out the fridge. Or maybe even the travel. Yeah... travel. That's probably it...
I'm pretty sure that the New Year came in with a roar, despite my lack of celebrations. As a matter of fact, I'd slap down some serious money on that, as my own personal snoring awoke me at 12:03...
New year, new goals, new hopes. But no resolutions from me. And, "No," I did not resolve that..
"Happy New Year," to all of you. May your goals be reached, and hopes realized.
Oh, and for those of you with a mile long list of resolutions, and no resolve, here's some (not safe for crumb gobblers' ears) encouragement! Kinda...
December 17, 2007
Snow
It is now officially Christmas.
While not nearly as warm as it was last year in Florida, and even though there are Christmas decorations out everywhere, I just haven't felt like it could be Christmas already. I haven't even gone shopping, yet. Partly because of no time, but mainly because I just haven't had the urge. I typically shop late anyway, but this year any urgency has been gone. So yesterday, I tried... and pissed myself off almost immediately.
Some shopping I am saving for when I get home. Less to pack. But at work, we've got a gift exchange going. I drew this woman's name, and on her paper, she had written "necklace, earrings, or kitchen stuff." I don't feel it's proper to go buying her jewelry, and I don't know what kind of kitchen stuff she needs, so I asked one of the guys that she hangs out with. He suggested a gift card from American Eagle Outfitters. Quick and easy, it would be something she would greatly appreciate. So I set off for the plaza where this place is located.
Quick and easy, my ass. (cue holiday cheer) As soon as I pulled in, I knew it was trouble. There were guys out directing traffic, which was hardly moving, except in slow circles. Vultures waiting for someone to drop. I made it through the parking lot, and kept on going. Right up into the mountains.
Much better. Not to mention, I finally got to see some snow.

I didn't make it all of the way up to
Kings Canyon
, but it was still a beautiful drive. Sometime this week, I'll be buying chains for the car. While they weren't required, I started to lose traction at times... and I still had a way to go. I just turned around and headed back.
Shopping frustrations aside, it was a great day.
It can now be Christmas.
December 01, 2007
Whistle
Some things in life are bad,
They can really make you mad,
Other things just make you swear and curse,
When you're chewing life's gristle,
Don't grumble,
Give a whistle
And this'll help things turn out for the best.
Look on the
bright side
of life... always.
Just in case you're wondering, "WTF?"

November 22, 2007
Wishbone
It's Thanksgiving Day, and most of us will soon be stuffed to the gills. Not really a good time for the traditional punch to the gut that our cousins like to do, but I'm sure it will be done. I'm also sure that one of my brothers, probably The Perfect One, will be walking around singing this tune. (I know that I have been since last night.) If you know the song, and the artist, you'll know why this pic seems appropriate. If not, well, you're in the dark.

I'm not going to tell you all of the things that you should be thankful for... if you need someone to tell you, then you're a frickin' idiot. But I
will
wish you and yours a very Happy Thanksgiving, and a safe weekend.
November 04, 2007
Marines and Valour IT
Next weekend, on the 10th, is the Birthday of the Marine Corps. We will be 232 years young. Born on the corner of Water Street and Tun Alley, in Philadelphia, the Corps has been more places than Johnny Cash: Tripoli, Mexico, West Africa, the Falkland Islands, Sumatra, Panama, China, Formosa, Japan, Nicaragua, Uruguay, Korea, Hawaii, Egypt, Haiti, Samoa, Argentina, Chile, Colombia, the Philippines, Puerto Rico, Cuba, Belleau Wood, Guadalcanal, Tarawa, Saipan, Cape Gloucester, Peleliu, Iwo Jima, Okinawa, Tachen Islands, Taiwan, Laos, Thailand, Korea, Vietnam, Diego Garcia, Grenada, Kuwait, Iraq, Somalia, the Horn of Africa, Uzbekistan, and Afghanistan, to name a few. I know there's plenty more...
Being a Marine is a special thing, and we take a great pride in that fact. I like what I read a while back; "The Air Force Chief of Staff would never be called 'airman'. The Chief of Naval Operations would never be called 'Sailor'. The Commanding General of the Army would never be called 'Soldier'. BUT, the Commandant of the Marine Corps is Damn Proud to be called MARINE!!!"
Being a Marine vet, I have joined up with the Marine Team in the VALOUR-IT fund raiser. That's what the dealie is up on the top of the right side bar.
What is Project Valour-IT?
Project Valour-IT began when Charles "Chuck" Ziegenfuss was wounded by an IED while serving as commander of a tank company in Iraq in June 2005.

During his deployment he kept a blog (an online personal diary, opinion forum, or news analysis site-called a milblog or military weblog when written by a servicemember or about military subjects). Captivating writing, insightful stories of his experiences, and his self-deprecating humor won him many loyal readers. After he was wounded, his wife continued his blog, keeping his readers informed of his condition.

As he began to recover, CPT Ziegenfuss wanted to return to writing his blog, but serious hand injuries hampered his typing. When a loyal and generous reader gave him a copy of the Dragon Naturally Speaking Preferred software, other readers began to realize how important such software could be to CPT Ziegenfuss' fellow wounded soldiers and started cast about for a way to get it to them.

A fellow blogger (blog author) who writes under the pseudonym FbL contacted Captain Ziegenfuss and the two realized they shared a vision of providing laptops with voice-controlled software to wounded soldiers whose injuries prevented them from operating a standard computer. FbL contacted Soldiers Angels, who offered to help develop the project, and Project Valour-IT was born.

In sharing their thoughts, CPT Ziegenfuss and FbL found that memories of their respective fathers were a motivating factor in their work with the project. Both continue their association with this project in memory of the great men in their lives whose fine examples taught them lasting lessons of courage and generosity.
quote from here
We've got four teams, each branch of the service (with the Coasties teaming with the Squids... poor guys), with a goal of raising 60k each. Currently, the Doggies are ahead, but I'm confident that our Marine team will catch up very soon. And that's where you come in.
Looky below:



Go ahead... click that button, and donate.
Want to give on behalf of a different team? No... you don't. Really. You'd like to be one of us. You know it, I know it, and everyone else does, too. And that's cool. Hell... that's normal. Seriously. Even the other teams are pimping out items for auction by using my likeness. Handsome devil, ain't I? Well... in a cartoonish sort of way.
Anyway, since it is the birthday of the Corps, you should gift them by giving to this cause, on behalf of the Marine Team. Again, be sure to check out the items for auction, and to visit Soldier's Angels, the hosts of this fundraiser.
GO MARINES!
November 03, 2007
Who? Ters.
Sooooooooooooooooooo.....
Just got back. No. Not like Cheap Trick. Or even the Heavils w/Rick Nielsen... though, that kicks some serious ass. Serious. Ass.
Nope. I just got back from Who-ters. Beer, buffalo shrimp. and bocolate mousse cake. Three b's consumed. Boobs. Yes. They were there. Both types. Neither consumed.
Bit bummed. Back in Billman Balley, bould I bant to bo to Booters, I could count on my buddy Bontagion. (Sorry... stuck on the b's.) BASKETBALL! Anyway, if Contagion said he'd be there, by Gott, he would.
A co-worker heard me say that I was planning on hitting Hooooooooters this weekend. "Hey, man. Give me a call. I'd like to go, too." Silly me... I immediately think of Contagion's personality, and think, "Sweet. Many beers... many shrimp, big bill... good time."
Nope. A call placed forty five minutes before I go out the door confirms that the meeting is on. I get there, and no co-worker. That's cool... may be late, may not show.... I'm eating if he ain't there by the end of my first beer. Doesn't show. But that's cool, because now I can actually order 911 instead of that weak ass Three Mile Island sauce. (Contagion, it's noticeably weaker out here.) I pigged out.
A few beers later (I'm turning into a lightweight), I head out.
You know... it wasn't that bad hitting the restaurant by myself. Not bad, but not as much fun as if it'd been back home. Alas, I'm not in Kansas anymore, Otto. Time to get blotto...
Next trip, no calls go out. Besides... I got to bullshit with the bartender. If'n co-worker had been there, I'd not had that chance.
Tomorrow, off to the mountains. (Not the hooter type of mountains, but an actual range of mountains. Which does sound a little lame in comparison...)
Buckethead
For my friend, Contagion, who seemed to be thrilled that I would post a Buckethead clip on my site.
Well, here's two more.
We Are One
Spokes for the Wheel of Torment

Trust me, this is cool stuff...
October 31, 2007
Halloween

Hope you have a great Halloween!
October 22, 2007
Watch
I've always been fond of the intermission song from the movies... you know, "Let's go out to the lobby, let's go out to the lobby, let's go out to the lobby, and have ourselves a snack." Never really cared much for the intro music, though.
Over at Hammer's, he's posted a great intro song that I'd love to see in theatres. Unfortunately, we probably never will.
Tip of the mug to Jerry, who felt my name was written all over it
October 21, 2007
Carcass Fix
It's Sunday, and I've been awake since 05:20. Yeah... it may seem like a sin to be awake at such ungodly hours, but I've gotten a lot of stuff done. Dishes and laundry are caught up, with considerations of housecleaning running through (and then right out of) my head, and I've managed to go through a few boxes of things left over from the move. I feel pretty damned good.
To fuel me on, my morning hymnal has been mostly made up of Carcass tunes. Brutal, but very melodic. I love their music... especially their later works. They've been disbanded for 12 years, but according to rumors, they're set to reunite.

Between listening to Heartwork on the computer, and watching
Wake Up and Smell the Carcass
on the tele, I'm thinking the woman in the apartment above may be a bit unhappy.
Hey... I try my best to keep it quiet, but there are some times when it's plain old fashioned not gonna happen.
October 18, 2007
Combine
I'm thinking I need one of these for the drive to work.

October 08, 2007
Cut Down
October 04, 2007
Holiday Cheer
YAAAAYYYYY! It's here! It's here! Psychostick's new holiday disc, The Flesh Eating Rollerskate Holiday Joyride is here... in my cd player! This is the bestest, mostest holidayest disc you'll ever get! EVER! Just check out their myspace page to hear "Jolly Old Sadist."
All of the tracks kick some serious ass, but I think my favorite is "Red Snow," a song about Rudolph.
My red nose the cause of all laughter
Around her I am just a goddamn chauffeur
Fucking Santa he's laughing he won't do a thing
choke on blood when you sing

My name is Rudolph, I am the saddest reindeer alive
But I'm gonna take control, I'm taking over the North Pole
I might be smaller, but I'm the meanest reindeer alive
Until I exact revenge, I'm never saving Christmas again
Red Snow.

My red nose will light up the red snow
Smell the air there's a trace of blood in my blow
There's another victim awaiting for me
Hiding in the debris

My name is Rudolph, I am the saddest reindeer alive
But I'm gonna take control, I'm taking over the North Pole
I might be smaller, but I'm the meanest reindeer alive
Until I exact revenge, I'm never saving Christmas again
No hope

The misfits from the island are trained to kill on command
The smell of blood excites them
Recall how they were condemned
These toys all shapes and sizes, devised clever disguises
The infiltrate at midnight, prepare yourselves
For a fucking fight

Dasher Dancer Prancer and Vixen
Comet Cupid Donner and Blitzen
Feel my knife on your throat and I'll grin
Put a happy face under your chin

Rudolph's gonna make you suffer

Red Snow
Beautiful... just beautiful.
Ya gotsta check it out...
October 02, 2007
Rock Lobster
Damn song's been stuck in my head all day.
Thanks, AW
September 22, 2007
Someone You Should Hear
Spaghetti
An album called "Glowsticks for Clubbing Baby Seals", and some kickass tunes, earn Indorphine a listen.
August 03, 2007
Zip
July 20, 2007
Super Group
Stopped by Alex's place yesterday, and he had an interesting post that's had me thinking since. It could be alot of fun. Only thing is, there's so many possibilities, and combinations... not to mention genres. Go check it out.
Anyway, here's my response to his post. These are not necessarily guys that I think are the best at their instruments, but who would make a very interesting band.
Vocals would be carried by Geoff Tate. The Queensryche frontman has one of the most incredible voices in rock, or metal, music today. While I don't usually get into lyrics, his are deep, and draw you in.
While I don't think keyboards would be necessary, I do think that having Jon Lord at the keys would kick some serious ass. The guy played his Hammond through a Marshall, for crying out loud! An excellent composer.
On drums, who better to have than Cozy Powell? From Jeff Beck, to Emerson, Lake and Powell, or Black Sabbath, Cozy could play any style of music, and play it well.
Playing bass would be Mike Dean, of Corrosion of Conformity. Punk, metal, hard rock, jazz, Mike can play it all. Flea, and my personal favorite,Les Claypool, would also be strong candidates, but I think Mike's style would blend a little better, while still being distinctive.
Playing ye olde guit-fiddles, I'd have John Sykes, and Steve Morse. Both incredible musicians and songwriters, it'd be interesting to see how their collaborations would sound. I'm thinking that it would be a very powerful mix.
Soon to come, the Fantasy Metal Band!
July 05, 2007
Um... Something
I spent the day packing and sorting. There's a hell of a lot of crap around here... just packing books and cds has me with two huge piles of boxes. And I'm not done with the books... I've still got a bunch upstairs.
This has been getting a bit aggravating. I clean out one room, have everything packed and orderly, and in working on the next room, the "clean" room suffers a bombing. All of the little oddball items end up there, and I've got to go back through and clean it up. I know there's got to be a better way, but this place isn't very big... not much room to work, period.
Anyway, I've spent most of the day jamming on the Spudmonsters, and Stone Sour. Yeah, different styles, but it puts you in a great mood, and you can get a hell of a lot of work done. However, as it got later, I tossed my San Quentin DVD that my favorite sis got me for Christmas. It was supposed to be for background sounds, but I couldn't help but stop and watch.
Damn cool, it was. Video of the concert, and interviews of inmates and staff.
My pa had the original album, and hearing some of those same tunes, I felt like he was sitting there in the room with me, 'specially "Orange Blossom Special." Cash was easily one of his favorites, and has become one of mine, too.
Well, shit... my train of thought derailed somewhere along the line, no pun intended. That's what no sleep do to a foo.
Ah... I'll give you the links, and leave you with this:

June 27, 2007
Mud
Know anybody like this? Whose name might be Mud, that is?
June 22, 2007
Packrat?
Dimebag displays his pentatonics, Slayer's 10 Deadliest Riffs, Mike Einziger kicks his playing into high gear, and Zakk Wylde dicusses the new Black Label Society album.
Does I really need this shit?
June 15, 2007
Crypt Tick
A clue...
June 11, 2007
Goin' Down To The River
Because you need to hear stuff like this...

May 30, 2007
Drunk
May 04, 2007
Footwork
Just because...
April 25, 2007
Beating Bushes
Saw a video posted by Walrilla a couple of weeks ago, and my first thought was to send it to Hubba for approval for the playlist at Mo's wedding. (I haven't been doing too good with my suggestions, but at least she's laughing.) I also was going to post about the band, as they are pure lyrical geniuses. Alas, I deemed myself "too busy," and did neither. However, some of Bou's recent posts have me thinking that I need to post them now... they go right along with her posts about "the talk," and "other terms."
Walrilla posted the video for "Bad Touch," by the Bloodhound Gang, the song that I was going to facetiously suggest to Hubba. (Hey... you can dance to it...)

This is just a bonus, for Mr. T and Bou.

Enjoy...
April 11, 2007
Agog
We were listening to a cd today, and a true country classic came on. I was singing along to it, and noticed my aunt nearly falling over laughing. At first I thought it was my terrible voice, but she informed me that she had never hear it before. "Wha???" says I. 'Twas true. She'd never heard it until today. I was gabberflasted. Bewildered. Thunderstruck. Aghast, even. Not to mention a bit horrified.
How can one have never heard a tune such as this one? Seriously. It's a classic. And it ain't heavy metal. But it's not really safe for work.
Please tell me that she's the only one that hasn't heard that tune...
March 27, 2007
What It's All About
The Perfect One and his woman are getting hitched, come August. Me... being the overly helpful bastard that I always am... I've decided that I'd help out. So I'm trying to convince the Moose that she should have this song played at their reception. And while I'm at it, I'm thinking that this would also be perfect for Mo, sister of Bou.
March 20, 2007
Pluh
Because one can never hear too much Psychostick:

February 20, 2007
Metal Church
So I'm at the shop... again. Anyway, I should be writing a recap of a very cool race, or finishing a poem, or finishing my educational piece that I feel you all need to know. Instead, I'm working. But, I'm jamming out, and that's a monster help.
I don't know how many of you know of Helloween, or Metal Church, but if you don't know them, you've missed out. Some of my favorite metal bands. Tonight, while digging around radio.blog.club, I came across a twofer... Helloween covering Metal Church's "Metal Church."
Check it out, yo, whilst I bounce offa de walls.
February 14, 2007
Gently
Some advice, just for this special day. There's one or two sweary bits, but it's wisdom that needs to be shared.
I really am a sentimental bastard...
January 24, 2007
Oops...
Cover songs are some of my favorites. No, they don't showcase the band's songwriting abilities, or originality, but it is cool to hear someone else's take on the song. And sometimes, like Johnny Cash covering "Hurt" (originally by NIN), they succeed in making the song one of their own.
This sure isn't one of those songs, but I do like it better than the original.
I've been grinning since I heard it...
January 17, 2007
Shock G
Damn song's been running through my head for the past two days...
January 12, 2007
Burgers
Who else, when hearing Van Halen's "Everybody Wants Some," always thinks of this?
January 04, 2007
Which It Be?
Give this a listen.
Then tell me: Blasphemy? Or a degree of cool?
And let me say... should you not know the original, that, my friends, is blasphemy.
December 30, 2006
'Tis A Sin
Some bands just keep on living forever, shitting out dung filled music, with plenty of new acts' "music" following right along in their footsteps.
Other bands are killed off before anyone can hear how good their tunes really are. These guys have been done for nearly a decade... just doesn't seem fair.
December 15, 2006
Baby It's Cold Outside
For my brother:
December 11, 2006
Insects
While trying to find the Viking Kittens, I ran across something that immediately made me think of Sissy and her infamous fear of bugs. She doesn't just kill them, she drowns them.
Anyway, this song brought her to mind.
Enjoy.
December 09, 2006
Viking Songs
At work, I only get to listen to classic rock stations. My choice in music is a bit frowned upon. There are a few classic rock stations around here, but the best are "The Eagle," and "The Bone." Both are great stations with a pretty decent selection of tunes. My aunt and the guys we have polishing for us prefer to listen to The Eagle.
Like I said, I like the Eagle, but I seriously think they should consider changing their name to "The Elton." Seems like Elton John is played at least every hour... it gets a little old. Not that I dislike Elton John, but I can only take so much. If I want to listen to piano rock, I'll listen to Billy Joel.
So anyway... I switched the station when no one was looking, and not a person noticed. 'Cept myself, of course. You know I mention that the Elton has their favorite, and it seems that the Bone does too... Led Zeppelin. Again, it's not that I mind the band, but when you hear them every hour or less, it has a tendency to get old. Not to mention that it only brings to mind pillaging kittens. (Yeah... I know it's not new, but it's been stuck in my head, so I need to share.)
Enjoy again...
*Please don't hotlink this... if you want to get the video for yourself, head here. They'll tell you how to get it. Thanks.
November 09, 2006
Yet Another Question
QW is going to a Bob Seger concert, and Sissy, who's first concert was Alabama, is lusting after today's new country artists. Get rid of the country lust, and this was a discussion at the shop just the other day.
My aunt and our part time polisher were discussing concerts, and some of the artists that they had seen. My aunt had mentioned that she'd always wanted to see Bob Seger, and our polisher said that he had, and it was the best show he'd ever seen (hope it's just as good for you, QW!). My aunt's favorite show had been seeing Willie Nelson. They also talked about their first shows, but I wasn't listening by then... I was trying to figure out how I'd answer the question if they asked me. Unfortunately/fortunately, they didn't. Wonder why? ;)
So here's a question for ya:
What makes a show, or concert, "good" in your eyes? And who was your favorite?
Is it sound, energy, interaction... something different?
And another:
Who played your very first concert?
My answers below the fold.
My very first concert was The Statler Brothers, at the Winnebago County Fair, in Pecatonica, Illinois. I can't remember a whole lot about the show, as I was pretty young, other than the harmony... that was a very cool thing. At least to me.
I still haven't decided what specifically makes a show great. Sometimes, the artist's interaction with the crowd, and my proximity to them, plays a huge part. One of my best shows where this came into play was a Sepultura, Clutch, Fudge Tunnel, and Fear Factory show at R&R Station (no longer there) in Madison, Wisconsin. I was able to get right up against the fence, where I was handed picks and high fived by the different band members. I took a beating, and up until a few years ago, I still had the faint scars to prove it, but it was a blast.
I fondly remember another show where energy and the crowd reactions made it such a great time. Brown Airfield, San Diego, California: Metallica, Candlebox and Fight. The place was packed, and the crowd was nuts... dust filled the air when Fight started playing, and I don't remember it ever settling down. Kickass show, with a memorably horrible ending. Took us four hours to get out of the place...
When it comes right down to it, I could go on and on... and on, naming concerts and artists. I've had many shows that I've enjoyed, and they aren't all heavy rock. Hell, one of the guys I used to like to catch was Lance Appleton, a Christian artist. That guy could play a mean harmonica... while hammering out tunes on the piano.
Anyway, I'd have to say that my favorite show of all time was seeing SRV, and The Allman Brothers Band at the Wisconsin State Fair. I had to use binos to watch the show, but Stevie was just phenomenal. Never seen anything like that before, or since.
October 27, 2006
Trashy
Jes' for 'Neck. I think he's got a crush on me.
Here ya go, 'Neck...
Slayer
Today was spent thinking about my brothers (and sistah), and Slayer... the tunes running non-stop through my grape. Pretty good day, if I do say so, but my teeth are a bit sore from grinding out a beat.
All of us guys were huge fans, and we were always quizzing our sister... "Who is this? What song? Which album?" We did that for all of the music we listened to... I think I we used to drive her crazy.
R and I were the musical ones, and we were always playing, he on the drums, and me on the guitar. We spent hours playing Slayer tunes... R used to be able to play just like Dave Lambardo, Slayer's drummer. It gave me goosebumps, at times.
Here's a couple of the tunes we used to play... enjoy.
Jesus Saves
South of Heaven and Raining Blood
R could play the first song dead on.

War Ensemble
The Perfect One got wiped out in the middle of this song... he was shoved into the pit, and they all threw him a stomping. A case of mistaken identity. At the 3:40 mark, all hell broke loose. I can still see it in my mind.
October 10, 2006
Machine Head
Hasn't been the best of days... not good at all. But I'm still in a damn good mood. I feel like rockin' out. Too bad this laptop is my only source of tunes... it's volume pretty much sucks.
Thank Gott for YouTube... check out Machine Head. Cures what ires you...
Davidian
More in the extended entry...
Ten Ton Hammer
OLD

Imperium

I've had the opportunity to catch these guys live... probably seven or eight times... most in Milwaukee. If you love this kind of music, you've gotta see them. Below is "The Blood, The Sweat, The Tears" performed live. Kick ass.
Fuck Shit Up!
October 09, 2006
Blistered Up
I watched a movie the other night, and since then, I've had a couple of songs stuck in my head. I mean, non-stop. They're good tunes though.
Check this one out... and if you can't tell me which movie I was watching, you need to be slapped upside the head. Then, there's another song from the same group, covered by someone else. (Quite well, if you ask me...)
Enjoy.
September 25, 2006
Not The Crotch Variety
I heard a great tune the other day, courtesty of Richard, of Shadowscope. I won't say that it's stuck in my head, but everytime I start humming it, I can't help but grin.
Check it out. It starts out kinda lame, but the ending just busts me up.
Don't thank me, thank Richard. He's your new hero.
September 20, 2006
Venting
There are times that you get home, after a stressful day, and you need to let off a little steam. Gott help the bastard, or bastards, who interrupt...
In this NSFW piece, somebody makes a stick figure version of me. It's pretty damn close.
I'll see ya all after I post bond.
September 02, 2006
ST Institutionalized
Still busy as hell...
This brought back some good memories. Remember this?

This would be why southerners call all pop, "coke." Not Pepsi.
August 15, 2006
Response
I'd like to respond to some of the comments for my Lucky Days post. Not that it matters...
Jerry thought I was wearing boots on the boat. In fact, I was not. I was wearing them the following day. Perhaps my wording implied otherwise. It definitely got folks thinking... Oddy!
And, "No," Oddybobo, I was not wearing shorts with my boots. Not exactly. And what's wrong with me dressing like this guy*?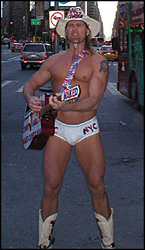 Granted, I wear ropers, not the tall boots. And I wear a black hat and bungies. Er... or I would, if I dressed like that.
And those suggesting I need a beer (Richmond, Tree Hugging Sister), you guys don't even know. I haven't imbibed much since being down here. As a matter of fact, I'm thinking that this may be part of the problem. Heheheh...
Gotta have a few here, and soon, or I may end up quitting. And nobody likes a quitter...
*Now you ladies can't say I didn't post anything for you!
August 02, 2006
Adrenaline
Boudicca wrote about how, when she has new tunes, she can't wait to run. Run? WTF??? Why would you want to run? Heheheh...
Anyway, I can identify with what she's talking about. Granted, my tunes are a bit different, though I do like quite a few of the tunes she likes. But when I'm going to lift, I toss in some good, brutal, metal. That gets ya fired up...
The cousin's hubby and I have started working out. We've been lifting for the past couple of weeks. On my way over to their place, I'll blast a bit of Slayer or Slipknot. I've been hooked on one song lately, and at loud volumes, the adrenaline starts pumping like crazy. It's a perfect tune for the pit, or a soundtrack to a rugby game. Which kinda fits... it's called Scrum. That'll get ya going for sure.
Speaking of which... we did legs tonight. Uh. I might have overdone it. My frickin' quadriceps are twitching. I'll probably be crippled in the morning.
I'll let ya know, then.
July 27, 2006
SWG Dedication
Sitting out here on the back porch, watching the rain start to come down.
Just a quick post, for Eric, who happens to love cover tunes.
If Ozzy were from the hills, he may have written a song that sounded like this. Actually, I do have this album... it ain't that bad. You should hear them do Metallica.
And then, just because, here's another cover, swing style. This dude is awesome...
Gotta run... all hell is breaking loose. I might get struck by lightning. Well, I run that risk everyday, but no sense in tempting fate.
July 21, 2006
Awake...
grrrrr....
Trying to sleep, but I'm still awake. Now I really won't be able to crash...
June 24, 2006
A Nice Little Song
It's been said before that I don't post enough things for the ladies... sorry.
I'll try to help out, starting with the "do-it-yourselfers." For you, a song.
H/T to AZIndiandoll
May 21, 2006
Dedication
I'm posting this piece for Ktreva, and brother Elisson, who knows great music.
Enjoy.
May 08, 2006
Serenade
I've mentioned that I play guitar a little bit. It's definitely nothing that is gonna earn me any ching, but it is pretty damn fun. I hadn't played for awhile, but a few months back, I picked it back up. I'm still not playing well, but things are coming back. Rapidly. It's become kind of an obsession.
I've started playing for hours at a time, and it's not always a whole song that occupies me... at times, I get hung up on a certain part, or a certain riff, and I play it over and over, until it has a certain fluidity. Hell, it might not sound good, but if it feels fluid when I play, I consider that a victory. And usually, the next day, it does sound good.
After listening to Rob, Denny, Jim, and Eric play, I decided that I've gotta do some work to hang with them. Sure, it's fun to play along with them, and that's really what it's about, but it would be nice to play at their level, or much nearer than my current level! So I've hit it hard lately, learning a song that Army Wife asked me to learn, and concentrating on the intro to "The Trees," by Rush. Heheh... that Rush song has kicked my ass. The chord changes are many, and often. After a couple hours trying to play that the other night, I awoke to find that I couldn't close my hand. Not good.
Ah well. I've got the chords pegged, it's just a matter of strengthening my hand. Maybe I'll treat you all to it at the next meet. Or not. Heheheh... I had been planning to play The Scrotum Song at this last meet, but thankfully, the timing was never right.
May 03, 2006
At The School Of Hard Rock
This is just for Ktreva, of Reality Ranch. I'd promised to send her the ABC song... as done by Psychostick.
Here it do be. Listen, and learn.
Language alert, for those that need that warning....
April 21, 2006
I Wish I Could Break Something
Not from a hangover, my frickin' head is pounding, and eyes are hurting. I'm trying to get crap accomplished on my computer, and each task seems to take hours. My patience is running very low, and I'm no longer in the best of moods. I stare at this piece of crap, and a tune comes on over Launchcast... a suggestion. And it fits. I won't do it, of course, but it surely do fit the mood.
I want to break it... (a swear word or two is possible)
If the oompa music doesn't make you smile, the aggression will. Enjoy.
March 30, 2006
Disco Hell
Perhaps I spoke a little early about personal hells... I was brutally reminded of another just after I posted that.
I was listening to Launchcast Radio, to my personal station. If you aren't familiar with Launchcast, your personal station is based on ratings of tunes from their other stations. I spend alot of time listening to metal and alternative stations, so my station is basically just that... with a few rock bands thrown in here and there. Based on your ratings, they make suggestions, and play them, giving you the opportunity to add them to your station.
It is a very good day, really. I'm typing away, and not paying a whole lot of attention, when I hear Front Line Assembly... I'm floored. Shortly afterward, I hear "Fish Fry" by Big Black... Tesco just posted about that album. An old favorite, but I hadn't heard it in quite some time, until Tesco pointed them out. Shortly after, I hear Dry Kill Logic, and within a half an hour, I hear Snot. Heheheh... I'm wiggin' out... I've only rated two of the bands, but I love all of them.
Then, after I was stupid enough to comment about how kickass they were that day, I hear the gates of hell slide open. It took me all of maybe two seconds to realize that a mistake had been made. I quickly glanced at the genres that this new artist covered, but I didn't really need to... the bouncing basslines, and disco ball gave it away. I don't know who Yvonne Elliman is, but I do know that her song "Love Pains" should be titled "Sonic Pain."
Thank Gott that when rating tunes on Launchcast, they have a handy dandy "do not play again, or I will bust my eardrums with pencils" button.
March 26, 2006
Frickin' Bugs
I know it's going to get me flack, and I have said it before, but I can't stand the Beatles. I think they are a bit overrated, and I just don't see how they've suckered such a large following...
Anyway, I can't say that I don't like any of their tunes, but they are definitely at a minimum. "A Day In The Life," is probably my favorite, and that's pretty much because I like how it ends... the second to last verse is my favorite part. Other than that, right now I can't think of any other good songs. Sorry.
So I'm over at Bou's, my blogsis, and she's got a post about a video her brother sent her. It was pretty damn cool. I suggest you go and watch it if you've got better than dial up, or a couple years to sit while waiting for it to buffer...
Anyway, I'm watching this guy, and I'm impressed, when the horror hits me in waves... GAH! THE BEATLES! GOLDEN SLUMBERS/CARRY THAT WEIGHT...
And worse than that, I realized, "I like this tune..."
I think my world is falling apart.
February 17, 2006
My Guit-fiddle
I play a bit of guitar. Nothing impressive, like the Elderly Brothers, but I mess around a little. Or used to, anyway. It's been quite a while since I've played regularly. Probably about three years.
While I haven't been playing, I've let my uncle use the guitar. He plays all the time, and an instrument is not just made to be beautiful, but to function beautifully, too. If you don't play it, it doesn't function. That's considered cruelty to instruments.
Well, Bloodspite asked me to bring my guitar to Howl on the Prowl, so I went up to my uncle's place and picked it up. First time in about four years that I've played it. Oh, I've played since... last time was in December at Bloodspite's place. It's just this particular guitar.
I've got an Ovation, 1995 Collector's Series acoustic. The thing is sweet. I hadn't realized how much I missed it, until I picked it up and started playing around with it.
Now, I'm looking forward to trying to hang with Bloodspite and his guitar this weekend. And I'm not so sure that I'm going to let my uncle have this at his disposal for a while... I'm like a little kid who just found a toy that he left outside last fall.
And it's a damn sweet toy!
February 12, 2006
Pondering
Got a song stuck in the old grape, and can't seem to shake it. I also can't seem to figure out exactly how lucky the Lucky Man was...
I mean, yeah, he had horses and ladies by the score, but they were all waiting by the door. (Not to mention all dressed in satin... how the hell do you dress horses?) Sounds like they were all waiting to leave. I figure his ladies wanted nothing to do with his bed, as the damn thing was metal.
How lucky is that?
February 09, 2006
Grammys
Wow... the Grammys were last night. Should you actually care, you can see the winners of all 108 categories here. My interests were for Best Hard Rock Performance, Best Metal Performance, Best Traditional Blues Album, Best Contemporary Blues Album and Best Musical Show Album. That's it...
And the respective winners of each are: System of a Down, Slipknot, B.B. King and friends, Delbert McClinton, and Spamalot.
This concludes my in depth coverage of the Grammys.
January 27, 2006
Caring
Well, I'm off. Figured I'd leave ya with something that kinda fits my state right now... btw, it's not exactly safe for work, or fitting for little ears.
Guess what kinda mood I'm in...
December 18, 2005
Cacophony?
How goes it, folks from the land that "could not be found?" What's that all about, you ask? Well, if you're asking, then the problem is on my end, and not with Al Gore's brainchild. For some reason, most of you "could not be found." It appears that you bastards have all up and left me! And it's not just blogs, but almost every url I try. Every now and then I get through, but I've been trying each an average of 4 to 5 times... and many of them I just stop trying. My mood has swung in a big way.
It's led to an interesting mix for a Sunday morning. Yep... this morning has been a sonic kaleidoscope.
I awoke in a fairly good mood... see, this evening, I am going to a Bears game. Yeah. It's going to be frickin' cold, but I'll be sitting there at Soldier Field, watching Mike Vick hopefully get planted in the frozen turf, and sipping on beer slushies. Okay, that last part isn't so great, but it's part of being at a game in December. There I go, off track...
Anyway, when I started out on the internet early this morning, I was grooving to tunes from Ian Moore, Los Straitjackets, and the Maverick soundtrack . Good bluesy rock, a bit of country, and instrumental surfer rock... great way to start a Sunday morn. However, having the taunting "..... could not be found" message appear over and over changes the mood a bit. I opted for some good heavy rock... I pulled out Neurotica. While a great choice, it didn't combat the frustrations building over no access to some of my peeps.
As I got into the second hour of being told that everyone had left me, I decided to start everything all over again. This time, I couldn't even get my homepage to load... it could not be found. Luckily, I was able to reach my site, only to be denied once again when I tried others' sites. I decided to hold service... Psalm 69 was the subject, as Jesus built my hotrod.
After service let out, I almost literally threw in GZR and soon after, Misery Loves Co. I'll admit, that by now, I was almost happy when I couldn't get to someone's site. Good angry tunes...
Four hours... I decide I'm going to give up, when I'm able to get through to Amazon, and the idea for this post comes up. I've been walking around for about 10 minutes singing the closing bit of "Plastic" from Reveille... okay, screaming it. "YOU CAN GO F#%K YOURSELF!" Relaxing.
I've finally gotten through to my editing page, so I'm going to see if this works... if so, you'll read a bunch of crap. If not, you're spared. Either way, I've decided that I'm done. After I hit "Publish," I'm throwing in some Elmore James. Or maybe some Tori Amos... I can visualize her writhing on her piano bench. Mmmmmm......
Later, and have a good day.
December 03, 2005
Slugocity
My brain feels runny today. Well, runnier than usual. So I'm just sitting here, moving no faster than needed, until I deem it safe. Gott only knows when that will be. Oh no, my flock, I'm not hurting too badly, but I feel the pain is there, lurking. Waiting for me to be an idiot. I've got the patience... I can wait it out.
I've even taken to taunting the hiding hangover... I'm listening to an album that I'm pretty sure only a few have ever heard: Fudge Tunnel's Hate Songs in E Minor. Also known as Fudge Tunnel's First Movement. (Now that's some funny shit, right there.) Good tunes, folks. The volume is increasing, as is the urge to bang my head, but I will resist. I think that if I were to start banging my head, I'd have to mop something up.
Speaking of obscure, I was wondering how many folks might happen to know where these lyrics come from... of course, without the aid of a search.
The Doctor looked at my eyes
"No trace of insanity.
Maybe the time is right now
to have a visit from the family.
I'm thinking of your Mother...
What does my little patient say?"
I should have taken his stethoscope
and then forced it down his throat.
My Mother was at stake,
So I behaved.
I'm only asking for the artist, but if you know the album and song title, you'll win even more nothing. If no one pegs it, I'll answer it later in the extended entry. I'm sure you'll all be dying to know. :)
Heheh... I see this went over like a Led Zeppelin! Don't worry, I'll do it again.
Anyway, for those interested, the artist was King Diamond, the album Conspiracy, and the song was "Lies."
Better luck next time! :)
September 27, 2005
Hooked
A fishhook may have well been attached to these words from Clutch:
...Shadow of the New Praetorian
Tipping Cows in fields Elysian...
They're stuck. And they bring about a strange visual... nothing really new here. Just very much enjoyed.
Heheh... the video for this song, "Burning Beard", sticks in the gray matter as well.
Definitely one of my favorite bands. Ever.
September 11, 2005
Gatemouth Brown
Clarence "Gatemouth" Brown dead at 81. Never a huge "star," his style of play was a mix of blues, jazz, country, big band, rythm and blues, and Cajun. He influenced many guitarists, including Stevie Ray Vaughan, Albert Collins, Frank Zappa, and Eric Clapton.
I've only recently become acquainted with his work, and I love it... wish I would have gotten to know it long ago. I was hoping to let him tell us all For Now So Long, but I haven't figured out how to post music, yet. Once I do, I'll post it.
*raising glass* To Gatemouth. Somewhere, they're welcoming a hell of an entertainer.