October 20, 2007
Egg Head
You can tell Halloween is just around the corner. Little bastards start pulling all kinds of crap this time of year. And nobody is safe.
Chicago police reported that some individual attempted to "egg" Bears' coach Lovie Smith's house last night.
The report stated:
An empty egg carton was recovered at the scene. Two eggs hit Mr. Smith's house, 3 eggs went over his house and hit his neighbor's back door, 2 eggs hit the houses of each of his next-door neighbors, and the remaining 3 eggs were found broken on the ground near the carton from where the individual threw them.
Looking at what was hit; police officials say they are considering
Rex Grossman
as the primary suspect.
Tip o' the mug to my cuz, He of the Brown Hair
October 13, 2007
PSA
You like NASCAR racing? That's cool for you, I suppose. But make sure you watch the races on the telly. If you do decide to go to one of the events, make sure to take all precautions.
NASCAR fans are rife with diseases.
October 07, 2007
???
Holy shit! Holy shit! The Bears managed to beat the Pack!
Wow... I'm stunned. And grinning like an idiot...
September 16, 2007
500
Congrats to Jim Thome, of the Chicago White Sox, for hitting home run #500!
Thome follows Frank Thomas, a former Sox slugger and a personal favorite, and Alex Rodriguez, of the dreaded Yankees and who I hope the Sox pursue in the off season, in reaching this milestone this year.
It couldn't happen to a better guy. Thome is from Peoria, Illinois... and a real class act. Even on the hated Indians, I enjoyed watching the guy play.
As Phil Rogers of the Chicago Tribune said in his article, "It's a shame Thome and Frank Thomas didn't get the chance to play alongside each other with the White Sox. That really would have been something to watch."
June 23, 2007
Ouch
Justin Morneau and Miguel Olivo collide...
June 21, 2007
Remaking The Rivalry
Locally, McDonalds has an ad campaign called "Wake Up The Rivalry." It is a set of four commercials, two pairs. The first one that I saw was of Carlos Zambrano (Cubs) sneaking in and getting A.J. Pierzynski (White Sox) with the old "shaving cream in the hand, and feather on the nose" trick. The next showed Pierzynski getting even and waxing Zambrano's eye brow.
The second set showed Jermaine Dye (Sox) drawing on Michael Barrett's (Cubes) face as he slept. Barrett retaliates by placing hundreds of mousetraps, set and ready, on the floor while Dye sleeps. He then yells at him to wake up, setting off the traps.
In each commercial, the prankster offers McDonald's chow as a peace offering.
I have been wondering if Mac's is doing this in other markets, or if it's just here. But now that Zambrano's favorite punching bag is gone (traded to the Padres), using him as part of the rivalry just doesn't seem right. Hell... it really should have had him and Pierzynski pranking each other, in the first place. They do have a history.
I'm so confused now...
April 02, 2007
Hockey
This has been cracking me up... especially when the aggressor becomes the hunted.
It's funny, but it's not. If you haven't watched it, watch it now. Okay...
Little kids, trying to hit each other. WTF??? Do you call that hitting? Little wussies is what they look like.
Time to send them to Coach Winnfield...
A tip of the glass to Z-man for the Winnfield link
February 05, 2007
Smacked
Well, obviously the Fatman knew about the bad things... Bitterroot said exactly what I was feeling: "Dude... Santa cut a switch and took you out behind the barn." And the worst thing is, the obese bastard lured me out of hiding with a big old smile, and the promise that my present was too big to fit in the house...
After Devin Hester's return of the opening kick off, and Thomas Jones' long run that set up a TD, the Bears had me feeling pretty confident that they were in this game to win. By halftime, however, I was reminded of this year's college championship game.
The Colts were definitely the better team, and they deserved to win. Tony Dungy has been deserving of that ring for a long time, and it's good to see him get it. Peyton? A great QB who also deserved a ring... just not against the Bears. I used to enjoy watching him in college, and now as a pro. But he's finally moved onto my "I hate that fucker" list. Nothing personal, mind you. It's just that there was an open slot.
Why not use that on Grossman? Believe me... I've been thinking about that all year. But the kid, despite being "the worst QB ever to play in the Super Bowl," actually has talent. It's there... he just keeps hiding it. The thing is, he makes mistakes, and doesn't learn from them. Maybe this shellacking will knock some learning into his skull.
Congrats to Indy, and I look forward to free agency dismantling your team.
January 30, 2007
Wagoneer
Is your team out of the playoffs? You don't know who to pull for in the Super Bowl? Well, NFL.com has made it easy for you... check out their Superbowl Bandwagon quiz.
January 27, 2007
Go Bears
Okay, okay, okay. It's been asked of me, from more than one person, "Where's the 'Bears are going to the Super Bowl' post?" As my cousin said... it's a bit confusing to those who know that I'm a huge Bear fan.
Forget the fact that I'm swamped in work. (Just this week alone, I've been back down to the shop for a few hours each night after I eat supper, figuring out quotes for customers and trying to catch up... which never seems to work.) I like to use that as my excuse for not reading other folk's blogs, or for posting on my own. Hey... it works.
No, I haven't posted about it because, while I'm happy as hell about Chicago going to the big game, I never thought that they could do it. As a matter of fact, earlier this season, when Contagion said that it was possible that the Bears could go all the way, I laughed. I figured we would have a good season, but never this good.
Harvey accused me of being pessimistic, but I'm what's known as a "realist." I've written about that before, but basically, I hope for the best, know that it's not likely to happen, and can then be pleasantly suprised when it does happen. Example: I never figured that the Bears would make it past New Orleans. That is, without help from the elements. When I saw the forecast, I felt a little hope, but I didn't get too excited. I mean, the Saints have some serious weapons, and the Bears? Well, they do, too, but they have one unknown factor to deal with, and that factor can change the game in a big way.
The Saints have an excellent defense, but the Bears are a little better, IMHO. (They were not consistent, though, and could easily have finished the season at 11-5.) Look at the Saints receiving corps: Horn (who was out), Colston (the Super Rookie), Copper, and Henderson, along with Billy Miller. They've played extremely well this season, but so have the Bears' Berrian, Davis, Muhammed, and Clark. Especially Berrian... the guy has made some huge plays. The Bears' running backs, Benson and Jones, also match up well when compared to the Saints' McAllister and The Elusive Reggie Bush. A personal opinion, but I'd have to give the edge to the Saints on that one. And special teams... rookie Devin Hester has been phenomenal this season, giving the Bears the advantage, though not a huge one, as Michael "Beer Man" Lewis is more than capable of running back a kick for a TD. Overall, not much to worry about, eh? Yeah... well, we've not mentioned the quarterback...
Drew Brees, a Big Ten product out of Purdue, has had an awesome year for the Saints. He's always been fun to watch, and when they show closeups of him making his reads, his eyes are constantly moving, going through his progressions, and rarely allowing a defender to zero in on his target. Were it not for his old teamate, Tomlinson, having the record year he had, Drew would have won the MVP award, no doubt.
The Bears have Rex Grossman, the unknown factor, a man who frightens me at times. Almost as badly as snakes.
With Grossman, you have a QB who can win in a big way, or lose it in ways that are just as big, ie. the last Green Bay game of the season. In that game, he had a monstrous QB rating of 0.0, with three interceptions (two of which were returned for touchdowns)... and that was only one half of the game. He finished the season tied with Peyton Manning for the most games with a QB rating over 100.0, with seven. He also finished the season with the most games with a QB rating under 40.0, with five. As for the entire season's rankings, he finished 29th. I don't find the negative thinking in figuring the Saints were going to win. But, they didn't.
Rex started off slow, but played well when it counted, and now the Bears are on their way to the Super Bowl, and my condolences are on their way to Dash...
Now that the Bears are in the Big Game, do I think they can win? Hell... I think we've got a better chance squaring off against Manning and Co., than we would have in a rematch of Super Bowl XX. Brady's Boys would have figured out a way to pull it off, but with the Colts, they've proved that they are capable of losing, too. And Manning hasn't been playing that well, overall, lately.
Best of all, the Bears are underdogs... something you've got to love. Manning is expected to win, and Grossman isn't. A bit of pressure off of Rex, I just hope he doesn't relax like he did in the Green Bay game...
I know, I know... I haven't said "it," yet... whether or not I think the Bears can win. And the answer is, "Yes, Virginia, I do." I won't make bets on this game, as that's a jinx, but I really do think that they've got a good chance of winning.
And it'll be even better if the "Good Rex" shows up...
January 14, 2007
Da Game
Division Playoffs... Bears vs. Seahawks.
I don't know folks... I don't want to be negative, but if Rex Grossman plays like he did for the majority of the season, this game will mark the end of the Bears' season. Shaun Alexander, who was injured in week 4 when they last met, is healthy... and a serious threat against a Bears' D that has been crumbling in the last few weeks. Hasselback is always a legitimate threat in the passing game.
The Bears better pull it all together if they want to go to the championship game.
I'd live blog the game, but I won't get to watch the whole thing. Not to mention that I don't really want to put that many swear words on my blog if they play like shit.
Either way,
GO BEARS!!!
1:12 Rasheed Davis takes away the ball from a Seahawk defender, ruining Grossman's first interception attempt. Good yardage gained, too.
1:13 Thomas Jones makes an easy run for the TD. Bears 7, Seachickens 0.
1:21 Bears' D looking pretty good... Tillman nearly picks off the pass, but bats it to Darrell Jackson. Jackson short of first down, Seattle punts. Punt is inside the Bears' ten.
1:26 Bears are stopped. Punt has no return... Burleson hit immediately.
1:38 Hey... whattya know? Seattle scores after Hasselback marches the Chickens downfield with minimal opposition. 7's to both.
1:42 Grossman to Berrian!!!! One play, long touchdown! Over sixty five yards on the play!!! Da Bears 14, Chickens 7.
1:46 Urlacher bats down a pass, forcing a Seattle punt. Bears' D is fired up after the Berrian TD.
1:52 Bears can only manage one first down, and then have to punt. Grossman looked like he may have smacked his hand on a helmet during their third down attempt.
1:55 Joe Buck again proves he's an idiot... "What's longer? A half inch, or 5/8?"
1:57 Devin Hester decides to join the business of giving out heart attacks, touching the rolling ball on the punt... redeems himself by falling on the ball.
2:05 Bears punt.
2:07 Bears hold, with a bit of help from Darren Jackson. Seattle punts, Hester bobbles... and then falls on the ball again. A flair for drama is not appreciated.
2:09 @#$%!!! Grossman feels sorry for the Chickens, and decides to fumble the ball to them.
Alexander is scaring me... twenty yards on his last two carries.
2:14 Alexander runs for a four yard TD... on fourth down. 14 all...
2:15 I've gotta run... there's two and a half minutes in half. Hopefully I can catch some more of the game, later.
9:14 Well crap... I missed it. Turns out the Bears won, and it was a damn good game!
Next up are the Saints... 'ere's hoping.
GO BEARS!!!
November 14, 2006
Still Going...
Yo! Vinnie's back... this time in New England.
Good luck. And I mean that.
September 17, 2006
Mincemeat Pie
Well, ladies and gents... it's happened. I sit here in stunned silence. How could he have known? Roy Williams (not the Cowboys' DB, but the Lions' WR) boldly predicted that, "We will win this game. Y'all can take that as a guarantee or whatnot, but we will win this game." He was referring to the game against the Chicago Bears. The game today. And this was after pointing out how the Lions almost scored 40 points in their 9 - 6 loss to Seattle.
Williams and the Lions improved their play considerably. No kidding. Having only 3 catches, 36 yards, and Gott only knows how many imagined touchdowns last week, Williams had 6 catches for 71 yards in today's game. The Lions' offense showed that they were capable of more than last week's results, too. I am not sure how many points they almost scored, but it was a slaughter in Chicago.
Or it would have been, if the score wasn't really Chicago 34, Detroit 7.
Roy, you're a young player with plenty of talent, and much to learn. I hope you learned a lesson from this:
KEEP YOUR FRICKIN' PIE HOLE SHUT!!!
July 30, 2006
Badass Burt
I watched The World's Fastest Indian last night. Wow...
I won't go into great details, because some folks just won't get into it. But if you're into speed, bikes, or feel good movies, you're probably going to love this flick. I did.
It's the story of Burt Munro, and his quest for a landspeed record on his 1920 Indian Scout... in 1962. The movie condenses several year visits to the Bonneville Salt Flats into one, but it still kicks ass. I couldn't help but grin throughout the movie, and I found myself tensing up, often. I was definitely into it.
Now, I've got to go get his biography... 'cuz Burt was a badass.
July 25, 2006
Zidaning
Headutting. Or Zidaning... it's the in thing.
Now a jockey's gone and used his noggin on his horse. See it here. Personally, I liked Zidane's blast better.
Word has it that the horse took a page from Materazzi (Zidane's butting bag), insulting the jockey, Paul O'Neill, and his family. More specifically, he'd implied that O'Neill's mother had worked a show in Tijuana with a cousin of his.
March 16, 2006
Yoga
Put Eric and myself in a room, add beer and/or scotch, and you will walk away impressed with the indispensible knowledge you will encounter. Epiphanies and revelations abound, making Saul on the road to Damascus seem like a mere child discovering that there really isn't a Santa Claus. Heavy shit, indeed. And amidst our discussions, we discovered the truth about yoga...
Yoga originated somewhen around 3000 BC, which could have meant "Before Camels", in India. History books won't tell you this, but you can trust us... it was developed as a way to stretch so that one may ride an elephant with minimal crotch wreckage. Until this time, elephant riders had been horribly deformed bastards, ruined from the stretch across the animal's girth, many unable to have chiltrens. Now look... India has an overpopulation problem, thanks to this stretching system.
The original poses, or asanas, were named after contortions made while mounting, or, in some cases, hurried dismounting of the animal. "Running dismount into briar patch" was a common favorite. However, over time, experienced riders began to base their poses on some of the human roadkill found alongside the elephant trails. There were many interesting displays... Yoga is from a Sanskrit word meaning "to yoke, or unite," and this uniting of body and earth was the basis for the newest asanas. Imitation of roadkill... now you know. Check these out, if you don't believe me.
Yes, yoga was the original Dead Body Guy, and few know this... but now you can say that you do.
February 10, 2006
Just Noodlin'
It's been a dreadfully dead day. Nothing clicks. Nothing to write about except for a certain goldphish and his lack of consideration for peeps that be counting on him. Hell, I've read a few blogs, and couldn't even come up the expected smartassedness in my comments. A funk seems to be shadowing me. And I did take my shower last week. I know that ain't it...
Anyway, to spend a major portion of the day, I've been chatting with Bloodspite on Yahoo messenger. We got to talking about fishin', and he started telling me about some of the fish caught in his area. Impressive, eh?
I was interested until he invited me down to go Noodling. I had to wonder about a few things, but he assured me that it really was a method of fishing. It is. I'd heard of this madness when I was in Texas, but the locals called it by another name... and I'm not talking "crazy," although most did say that's what it is... frickin' crazy.
So what am I talking about? Go ahead, and read this. Catching a fish by having it bite you, then grabbing 'hold of it. You may be thinking, "These fish can't be too big!" Well, check it out, holmes... look at the alien life forms. No effin' way...
I'm not about to go sticking my hand in a muddy riverbank, hoping for some beasty fish, and not a snake or snapping turtle, to bite on my arm so I can wrestle him out. Bastards have drowned themselves totally dead by doing this. I ain't doing it unless you can buy me a new arm, and a give me a shitload of money.
Oh, and just so you know, Bloodspite ain't about to do it either... he was just trying to get me all riled up, which did work. He IM'ed, "go ahead. Stick your hand in to a leaving breathing wood sander why don't you. Along with the rest of your arm.... Be like wrestling a damn gator." Perhaps, Jimbo, of PRS, might try this to help overcome his fear of 'gators. Or not.
I ain't about to try it... but how about you? Or even better, have you?
February 05, 2006
MmmMartina
I've mentioned before, I don't really pay much attention to tennis, but I do try to catch Wimbledon and the French Open... especially the women's matches. Seems that the women's game is more strategy and finesse, rather than the power of the men's game. And I've gotta admit, some of those women are pretty damn hot.
Anyway, I've watched enough that I know quite a few of the players. Not all of them, but many of the up and comers. I've been watching since around '90. Mmmmmm.... Steffi Graf..... er... distracted again.
I remember when Martina Hingis first appeared on the scene. She never really impressed me looks-wise, but she could definitely play tennis... some powerful tennis. She won 3 straight Australian Opens between '97 and '99, with titles at the US Open and Wimbledon in '97. She was a dominant player, holding the world no. 1 ranking for 209 weeks total.
However, she started suffering injuries and never seemed to play with as much dominance as she did early in her career. She retired in '03, with a failed attempt at a return in '05.
I recently heard that she was attempting another comeback, but I hadn't paid any real attention to her. Then I heard that she made it to the quarterfinals at this year's Australian Open. Next, I heard that she defeated mmmmmmmmMaria Sharapova, a hottie and no. 1 seed, at the Pan Pacific Open in Tokyo. Hmmm... says I. I decided to look into this.
Holy. Mother. Of. Gott!!! She's hot!!! Hingis, that is.
Whenever I heard her name, I thought of her looking like this. A pudgy girl. Heheheh... nothing like that today, folks. This is more recent. Unsure, I found another pic.... no doubt. Mmmmmmmm....
Don't really know what the point of this was, other than to point out that Hingis is no pudgy kid, but a damn hot woman. Heheh... and I'm risking sounding like an old pervert.
Hey... gotta run. The Super Bowl is about to start. Can't miss the cheerleaders....
mmmore Martina...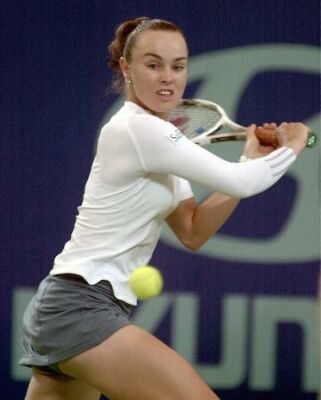 January 23, 2006
Jaurgonna Lose, Buffalo
What the hell are the Buffalo Bills thinking? They've gone and decided that a 5-11 season is just too damn good, so they've hired Dick Jauron as the replacement to Mike Mularkey, who recently resigned.
Jauron is a pretty good defensive coordinator, but Gott and Chicago know that he sucks as a head coach. He was 35 - 46 in five years with the Bears. Buffalo has gone 31 - 49 in the past five years. Maybe it is an improvement...
Either way, good luck to you poor Bill's fans.
December 26, 2005
Helping Again
Funny, but I've discovered that I'm one of the top hits for "Kyle Orton Drunk Pictures"... not sure where that came from, other than to say that I'm not an Orton hater. He played well with what they entrusted him with, as far as playcalling. Now that Rex is back for a few games, it's a whole new offense, and I guarantee that the Bears make it past the first round of the playoffs. (It's a joke... they have a first round bye.)
For those of you looking for the "Drunken Kyle Orton Pics", let me direct you to this post by The Backer, or to here (look up "Kyle Orton Drunk! (10-04-2005)" on the gallery selection), from Pete McMurray.
Personally, I don't know what the big deal is with him being photographed drunk. Hell, I've had a drunk pic or two taken myself. But, Hey, anything to help folks out.
December 20, 2005
Football Sacrilege
Why would a Bears fan choose the Packers to win a game... especially last night's game? That's damn near blasphemy. However, it involves quite a bit of respect for their QB, Brett Favre, and his ability to change the course of a game. USUALLY for the good of his team. Never again...
Packers over the Ravens? Should be a cakewalk... not. I was just a bit off thinking that. Baltimore barely squeaked past Green Bay, 48 - 3. It's a sad, sad day, when a Bears fan says that the Packers let him down. Jackasses.
Now Ogre's in the lead in our Pick'em Pool.
December 19, 2005
Da Bears
I get the chance to go to Bears games very rarely, so when the opportunity presents itself, I hop on it. Weather conditions be damned. This year, I've managed to catch two of them. Last year, once. The time before that was about three years ago. Weather-wise, the last four times haven't been Paradise.
Remember the game earlier this year, when Nathan Vasher returned a missed field goal 108 yards? It was a new NFL record, and I was there. The breeziest game I've ever been to, we were joking about flying my friend's daughter like a kite. As it was, the wind knocked her over into the next row of seats before I caught her. No lie.
The last time I was at Soldier Field before they renovated it, it poured rain most of the game. Hell, all I remember about it, is that Chicago won. I'll admit, I was cold and miserable for that one... water seems to make its way through the toughest defenses. But it was still just a thrill to be there.
Some of you may remember that I caught a game last year around this time. That was a noon game, and the temps kept going down. Down to about -9o, depending on who you read at the time. There wasn't much of a breeze to be felt on our side of the stadium, but the air was moving. I've no clue what the windchill was... after you get below 0, it really doesn't matter that much.
Last night's game was technically warmer, but it felt worse... 9o, with a windchill of -8o. No sun to provide it's warmth. The wind was blowing fairly steadily in our faces. But none of us got very cold... we all know how to dress in temps like that. (No, Teresa, I wasn't a popsicle! :D) If you happened to see a person dressed in a mess of denim, blaze orange, camo, and leathers, it may have been me. Keeping warm isn't a fashion statement, although there were an awful lot of "pretty people" there. 'Course, they had to keep running inside.
Both cold weather games that I've been to, they've announced the temps and windchills. Both times, the crowd goes wild. You can only grin... only Bear and Packer fans would go ape over that! Okay, maybe Buffalo or New England. Maybe.
How was the game itself? Well, thanks to the defense, the Bears were able to stay in it until Rex Grossman started the second half. I'm not one of those that hate Kyle Orton... I think he's done a pretty decent job considering the play calling. However, he really messed up a couple of times, once a potential touchdown to a wide open Muhsin Muhammad. It was good to see Rex step in and move the ball.
One thing I'll give to Atlanta is that their rookie punter, Michael Koenen, kept pinning the Bears deep. He had some great punts, compared to Maynard of the Bears. Some of those kicks were just terrible. Last year, a friend and I heckled the punter from the Texans for some of the same kicks Maynard had. I kept my mouth shut, but it wasn't easy.
Mike Vick got smacked around a few times, and sacked twice, so I was happy. No, no, no.... I don't hate him. It's just a fact that when he gets smacked around, his passer rating goes to hell. And it did...
Great game, great time, great weather!
December 16, 2005
Walkering the Walk
Have you hunters ever had a really hard time draggin' a deer or other game animal out of the woods? I just read about a guy who impressed the hell out of me.
He shot a 290 pound buck, and dragged it out... using his walker. And that ain't all of it...
October 26, 2005
WORLD SERIES CHAMPS!!!
If you hadn't read the post below, or you haven't been paying any attention, the White Sox took the World Series!
To say I'm happy is a serious understatement... I've been listening to the Sox since '81, and while they've appeared to be on the right path a few times, the road ended up leading to nothing. It feels damn good!
But while I'm feeling good, I also feel a bit bad. Houston played well, just not good enough. As Jerry Reinsdorf said after the game, things could have been the other way around, with Houston winning all games. I've always liked two of their players, and I feel bad that Biggio and Bagwell didn't get to win a game in the Series. Yeah, they made it there, but...
I'd have given more links, but I've got some celebrating to do!!
GO SOX!!!
Game Four, WS
The fourth game of the Series is about to start, and I've already had a good chuckle...
Kevin Kennedy told pre-game cohost Jeanne Zelasko, that he hoped the series didn't end tonight... he wanted to spend another night with her. Heheh.....
More will appear later in extended entry.
Top of the First....
With two flyouts, Jermaine Dye hits a nice double off of Backe. Backe makes up for it with a nice stab to nab Paul Konerko's grounder. Jerk...
Bottom of the First...
Biggio leads off with a single, ripped past Uribe. Unfortunately for the 'Stros, he is only advanced to second on Tavares' bunt. Thank Gott for Morgan Ensberg... again, he fails to bring a run in.
Top Second...
Backe is looking good for the 'Stros... all three Sox batters retired. Damn.
Bottom Second...
Lamb leads off with a long double... I thought it was gone at first. Again, no one is able to bring him home.
This goes for both teams... I don't understand why you won't try to capitalize on this situation. Man on second, no outs. And no bunts... part of what was pissing me off last night.

Top Third...
Backe looks good. With the exception of a two out triple by Podsednik, he shuts down Chicago. If he keeps this up, I'm thinking a loss is on the way for the Sox.
Bottom Third...
Garcia returns the favor, retiring the side. This could be a very good, but low scoring game... as long as the Sox have more runs at the end of the game, I'll be a happy person.
Top Fourth...
Dye singles, but Backe strikes out the side... #%&*!!!!
Bottom Fourth...
Yawn.... Berkman walks to lead off the inning, but the 'Stros stick to the game plan, and don't bring anyone home.
Top Fifth...
Backe... all Backe. Two strike outs, and a ground out.
Bottom Fifth...
Ausmus singles. Discounting the fact that I'm a Sox fan, I was pleased to see the 'Stros going with the hit and run. It didn't work, leading to a double play, but it was a good call. Backe rips a grounder to Crede, who bobbles the ball, but ends up throwing him out. That pitcher really does have a good swing...

Top Sixth...
With great fielding by Everett, Backe again rules the inning... I'm seriously starting to hate the guy, even while I admire his pitching. Crap, crap, crap...
Bottom Sixth...
Gut check. After getting Biggio for the first out, Tavares singles. Garcia then walks Berkman, gets Enberg to strike out, then loads the bases by walking Lamb. He then strikes out Lane, allowing blue faced Sox fans everywhere to get a breath...
If you haven't noticed... no score, yet.
Top Seventh...
Sox threaten... with two outs, Rowand singles, followed by a deep double by Crede. Runners are at second and third... but Backe strikes out Uribe to end the inning. The guy has been pitching a phenomenal game so far...
Bottom Seventh...
With an incredible catch by Podsednik, Garcia cruises through the inning. Bagwell pinch hit for Backe... and promptly grounded out.
Top Eighth...
Lidge comes into pitch for Backe. Harris bats for Garcia, and leads off with a single. Podsednik advances him to second with a sac bunt. Carl Everett, hitting for Iguchi grounds out, but advances Harris to third. Dye singles up the middle to drive in Harris. Konerko strikes out to end the inning.
Sox 1, Astros 0
Bottom Eighth
Politte comes in to pitch for Garcia. With one out, Politte plunks Tavares... a serious speedster. Pitching all over the place, the Sox walk Berkman to get at Ensberg and his cold bat. He pops up to center, moving Tavares to third.
Politte is pulled for Cotts, who faces pinch hitter Visciano. Visciano grounds out... Sox escape the inning.
Sox 1, Astros 0
Top Ninth...
Lidge is still pitching. Pierzynski hits a double down the right field line. Rowand tries to bunt and advance him, but ends up striking out, as does Crede. Uribe finishes the inning by grounding out, again wasting a good start to the inning. Grrrrr..... I'm getting a little nervous.
Bottom Ninth...
Jenks is pitching... which version of Bobby will we see? He starts out by giving up a single to Lane, who is advanced by Ausmus. Jenks is making me ill... pitching like he did in Game Two.
HOLY CRAP!!! Uribe makes an awesome catch, falling into the stands to catch a foul ball! Two gone...
AGAIN!!!! Uribe scoops up a ground ball and fires to first for the final out!!
SOX ARE WORLD CHAMPS!!!
Game Three, WS
Crabby asshole version.
White Sox win again... I'm happy, and I'm pissed.
Happy, of course, because that means they're only one game away from being crowned World Champions. But at the same time I'm frustrated. I'm frustrated with the strategy of both teams. The Astros were playing not to lose, and wouldn't take chances. The Sox were playing conservative, also. If you've got the chance to put someone away, do it. (I'd give you some links, but as of right now, there aren't any.)
I'm pissed because Fox Sports, in it's desire to show the drama of the series, seriously screwed up with their lousy camera angles. Trying to show the dismay in the faces of a team counts for shit when a pitch is being thrown. I'd much rather see a pitch, than to look at some "poor" bastard who's looking upset about possibly losing the game.
Again, happy that Sox won, even though I don't sound like it. Screw Fox.... and GO SOX!!!
BTW, in my exalted crabbiness, I forgot to mention the final score... Sox 7, Astros 5. That is all.
October 23, 2005
Game Two, WS
Well, the Sox won again, but not without a bit of controversy... again. Jermaine Dye was "hit by a pitch" on a full count, and awarded first to load the bases with two outs. Just in time for Paul Konerko to smack a grand slam, and give the Sox a 6-4 lead.
The Astros tied the score in the ninth off of a timely single by Jose Vizcaino, but Scott Podsednik hit a walk off homer in the bottom of the ninth to seal the Sox victory, 7-6.
I know there's going to be alot of speculation about what could have been... replays show that the ball hit Dye's bat, not him. He even admitted it later. A tip off the bat is a foul, and he wouldn't have been awarded a base, just had to stand in there for another terrible pitch. At this point of the game, Dan Wheeler wasn't pitching well at all. Who knows? He may have struck Dye out... then again, he may have plunked Dye for real. All I know is that he got on base, and Konerko knocked everyone home.
Ugly? Maybe... well, yes. But it was a win. GO SOX!!!
A good day for Chicago sports, as the Bears beat the Ravens!
Game One, WS
White Sox win! My original intent was to live blog the game, but I was up visiting family. I did get to watch the game, and suffer through a couple of minor heart attacks thanks to Willy Tavaras of the Astros. Thank Gott for Joe Crede of the Sox, and Morgan Ensberg of the 'stros.
Want to see how the game went from an Astro's fan's point of view? Laurence Simon has his take on certain innings. He's also got a list of who is rooting for which team.
I probably won't be able to blog tomorrow's game, but for the weekday's, I'll be there like Tom Joad. GO SOX!!!
October 16, 2005
They're There!
HOLY CRAP!!! The Sox are World Series bound!
I got back into town just in time to catch the last couple of innings. What great timing! The goosebumps rose on my arm as Konerko tagged first for the final out as the Sox clinched the pennant... the goosebumps are still there.
All other posts are lost at this time...
October 15, 2005
Sox Not Sux... Yet
The White Sox have guaranteed a trip back home in their best of seven series with the Angels, beating the Angels last night, 5-2. Chicago now leads the series 2-1.
One thing that's impressed, and at the same time, worried me, is the games that the Sox pitchers are throwing. They've gotten two complete games out of their starters, and damn near a third. Jon Garland only gave up four hits last night, Mark Buerhle scattered five hits, and just one run over nine innings in Wednesday's controversial win. The first consecutive complete games in the ALCS since 1982. And Jose Contreras pitched into the ninth inning in Tuesday night's loss, giving up three runs early, and then pitching solid ball.
I'm just a little bit worried that they be tired out if they make it to the World Series. Hey, I can't help it... they haven't been to the Series since 1959, and I'm excited about them possibly earning the chance to play in it. I just want them to have a chance to win it all. Being a realist, I know that pitching these complete games does not wear a pitcher out too bad... especially when they've had the rest that the Sox had before this series. But there still is a bit of Sox fan pessimmism rearing it's ugly head. I like the sound of realism better...
If it sounds like I'm counting the Angels out of this, I'm not. They are a very good ball team, and can be very dangerous. Anything can happen... there's still four games left, with the Sox sending Freddy Garcia against Ervin Santana tonight in Game Four.
GO SOX!!!
October 12, 2005
Sports Talk With Idiots
Sometimes, I hate talking to idiots. Sure, they can be good for a few laughs at times, but they can also get under your skin. A perfect example of these latter idiots are sports fans who only pay attention to one team, and no one else. And, because they know their team so well, they know all about the sport, and what's going on. I'm one who enjoys speaking with a true fan of the game... I admit that I don't know alot, but I can learn from folks who know. Not "Homers."
Monday evening at Fritz's: I'm watching the Yankees lose to the Angels, and make the comment that I would rather see the White Sox play against the Bombers than Angels. An idiot Yankee fan looks at me and tells me that the Sox would have no chance against the Yankees. "Why not? They split the season with them. Proves that they can at least hang with them." So I'm re-informed that the Sox would have no chance. Oh, I understand now.
I point out that the American League West, whom the Angels play for, has dominated the Sox this year. The only one we beat up on was Seattle, 6-3. I did have to look up some stats, because I thought the Athletics had only lost one game to Chicago. I was wrong... it was two. Oakland, which I feared, bested the Sox 7-2. Texas also beat up on them... 6-3. Angels were a little closer... 6-4 until last night's meeting. No, not all of these stats were quoted, but I knew we suck against the AL West. AL West: 22 games to Chicago's 15.
I then pointed out that we played pretty well against the AL East, of whom the Yankees are a member. I got the "argument" that there was no way... the Sox were good, but they weren't that good. I tell him that I'm not totally sure, but I think only Boston had a winning record against us. After checking, I was right. Boston led the season series 4-3 before Chicago's sweep last week. The Yankees had split, as I mentioned earlier, 3-3. Overall, Chicago beat AL East teams 20 times out of thirty three games.
After the Angels won, bright guy assured me that the Sox now have a good chance to go to the World Series. Why? Because if the Yankees had won, the Sox wouldn't have had a chance. Hmmm... a broken fricking record. "They should take care of the Angels easily... they aren't that good."
"They just beat your team!!!"
"They got lucky."
I was hoping for the Yankees to make it... it would have been a great series, and I could have talked crap with Ogre. Who, I might add, pays attention to more than just his team. I know he's pulling for the Sox now, as they have a minor league team in Charlotte, NC, and he occasionally goes to some of the games.
How's this series started out? Well, the Angels lead, winning the first game 3-2. Paul Byrd pitched well against the Sox, while Jose Contreras, after giving up three runs, pitched an exceptional game. Unfortunately, the Sox offense couldn't bail him out.
Tonight's matchup is Jarrod Washburn for the Angels, and Mark Buerhle for the Sox. GO SOX!!!
October 05, 2005
Battle Of The Burly Boys
Believe me, it's not a slam against David Wells...
Tonight's game will feature Boston's Wells (6'-3", 248 lbs) dueling with Chicago's Mark Buehrle(6' 2", 220). Wells has been in 25 playoff games, starting 15, and winning ten. This is Buerhle's first post season start. Hopefully, it'll also be his first postseason win. Two great pitchers... should be a good game.
Did you read the scouting reports? ESPN really digs deep... a little too much info if you ask me. About Buerhle:
He very rarely beats himself.
Somehow, I don't think such personal things are pertinent the game. But I may be wrong... heheheh.
Self-gratification or no, GO CHICAGO!
UPDATE: Tonight's game was a good one. Good Sox won, 5-4. I should be happy... and I kinda am. But the game was won after an error by a former White Sox player. If Boston doesn't make it to the next level, I fear that Tony Graffanino will be the new Bill Buckner. He doesn't deserve that... hell, even Bill didn't deserve that.
Nonetheless, Buerhle beats Burly.... as the Matron Saint of Jailbirds says, "It's a good thing."
September 21, 2005
Some Kids' Parents
I was reading through the news on Monday, and ran across an article about a parent threatening a coach for benching his son. His boy was five minutes late on the day of the game.
At first, I was really annoyed... I thought about blogging it, but thought to leave it alone. However, listening to some of the parents of kids around here, and members of a certain club, really brings it right back.
What the hell is up with us nowadays? Parents beat up other parents, coaches, and refs. They taunt kids from the other teams, and sometimes their own. If one is to believe all of them, the world is going to be chock full of superstars in the next couple of years. Their kids are the best on the team... can't win without them.
I hate to go back to the olden days when we all had to cross the prairie in covered wagons to play other schools, but I'm going to anyway. Even back then, there was a certain ugliness to organized sports, both relating to school, and little league baseball or football. There were always a few parents convinced that their kid was Gott in the flesh. But their numbers were very few. Most parents would cheer a great play, whether by their kid's team, or the opponents'. Whether their kid, or the kid fighting him for his spot on the team.
There was a respect, and a realization that these were kids... they were just learning. They needed to see good sportsmanship. Not only from their peers, but their parents as well. A parent's kid may not have played much, but an at bat or two, a couple of downs of football, and they were happy. They wished for more, but many understood that their child's skills were developing. It may take five years, or one, but he may bump someone out of a position later on.
Listen to many parents now... their kid is the star of the team. They don't know why the coach doesn't play them more... their kid would gladly bring himself down off the cross to save the game, then get back on it to save man's soul. If the game is lost, and their child didn't play the whole game, it's the coach's fault.
They get ugly, so I'm going to reply ugly. Childish, yes, but very satisfying.
Have you ever thought, Mr./Mrs. Booster Club member, that your kid just plain SUCKS? The little tub of goo isn't the starting quarterback because he can't move! He's only a pinch hitter because he fields the ball like a sloth! She's not playing basketball regularly because she couldn't guard a trash can!
No... I didn't think you'd ever consider it. Your little Jeebus Jrs. have the skills... you know. They have to have such superior skills because you need to relive your life through them. Everything you couldn't be, they will be. You say so.
Being a coach of a school team has to be the worst/best job out there. It's good because you can look back and see how you've helped to develop the kids, as both people and athletes.
But it's gotta be hard as hell because you have to be a politician. You need to play the good kids and win, so you can get to state, and earn some extra money for your school's program. At the same time, you have to keep in mind that you have to try to play every player, at one point or another, to keep them from being crushed... dejected.
And then, of course, there's the loudmouth parents, who's numbers seem to grow each year. It's too bad that a coach can't just pop an idiot parent in the teeth to shut them up. Win, and you're not so bad... but you still should have played their kid. Lose, and you're buried in an avalanche of criticism. And try to instill and enforce a little discipline? Hah.
I know you shouldn't really go off about something unless you've got a way to improve things, but I just get fed up with listening to this crap. How do we make it better? I really feel that it's too late. How positive is that?
I hope to gott that by the time I've got a bunch of little ones running around, I haven't turned into one of those I hate.
September 20, 2005
With A Name Like This...
is it any wonder? Joe Crede smacks the Tribe back one game. 12 games to go... Sox up three.
Gotta be something to do with the name.
White Sux
Perhaps, it's just because I'm a Chicago sports fan. We constantly see losing teams, or teams that choke when it counts. I won't exactly call us fatalists, but we are definitely realists... with a strong negative view.
The White Sox took off like Sissy from a bug. They looked unstoppable... except to many of us Sox fans.
At one point enjoying a huge lead in the standings over Cleveland, they are now only 2 1/2 games ahead of them, with 5 more games to be played between them alone. Thirteen games in all. This doesn't bode well for the fading Sox. Cleveland has been on a tear since the All-Star break, while the Sox have been flirting with .500 ball.
I joked with a friend late last month that the Sox were no longer playing for the division title, but hoping for a wild card berth to the playoffs. Unfortunately, it appears it was no joke. With the Yankees not far behind Cleveland, in the wild card race, I've a feeling that we may not see the playoffs at all.
But maybe I'm just being a fatalist...
September 15, 2005
Ask A Stupid Question...
The local newspaper had a quick quote in it yesterday. I tried to link it, and haven't found squat anywhere... maybe they're a bunch of liars.
Allegedly, Danica Patrick, when asked to name the best female driver that no one has heard of, answered, "I don't know. I've never heard of her."
***All hail Teresa, who gave me the link in question. What a sweetheart she be!
September 14, 2005
Cut Off
Hard core. That's about all I can say about having a finger amputated to improve your game. Well, that, or he's completely loopy.
Sounds like he's trying to be a little like Ronnie Lott.
Easy Taunt
The Los Angeles Kings signed a new goalie earlier this month. I know it's childish, but I wonder what name he's going to go by.
Yutaka Fukufuji... Sounds like he doesn't like Fuji cameras very much.
September 11, 2005
It Is Here
It officially started Thursday, but today is the true kickoff for football for me. I like the Patriots, and I've always liked the the outlaw rep of the Raiders, but football to me is the NFC Central North division: Bears, Packers, Lions, and the Vike queens. The season doesn't start until one of them plays.
With apologies to blog bro _Jon, I can't stand the Lions. And it may be evident that I hate the Queens. I can't say that I truly hate the Packers, but I don't like them. At all. Chicago's where it's at, folks!
Now just because I don't like the rest of the division doesn't mean I have no respect for them. You can't be a football fan and fail to appreciate players from each team. In addition to the infinite number of Bear greats, I admire many Packers players. Not just names like Taylor, Hornung, Starr, and Nitschke, but some of the more recent players. Guys like Levens, Mark Murphy, and Chuck Cecil.
Chuck Cecil... there was a guy who could hit! I loved watching that maniac strong safety play. He would hit guys so hard, that HE would go numb! As I'm prone to do, I'm drifting again.
The two teams I hate, are the ones that I worry about. They both look like they could get somewhere this year. Of course, if Minnesota does, it doesn't mean that they'll win the Big One. They've got a talent for losing Super Bowls.
I'm thinking this isn't going to be a very good year for the Bears, unless Kyle Orton is the real thing. We've got a good defensive lineup, but a one dimensional offense, unless he can add to the passing game. My guess for them? 8-8. Defense can win games, but offense has to help.
The Packers appear to be on the verge of decline. Favre looks like he may get the snot knocked out of him this year with an O-line that looks as holey as their fans' stupid headgear. As much as I feel like losing my lunch, I've got to admit that I like... no, I can't do it. There's no way that I will admit to liking Fart's style of play, and the impact he can have in a game.
Sounds like blasphemy, but I really don't want the Packers to hit that decline. No, I don't want them to be a dynasty, but if they hit the slide, all I'm going to hear about when talking to Packer fans is more tales of yesteryear. :)
July 01, 2004
Must Be Something In The Water
Now, I'm no serious tennis buff, but I usually try to make it a point to catch some of Wimbledon and the French (aaaugh... uncontrollable retching) Open. It's a sport to watch once in a great while.
This week, I've been impressed by a couple different things. There's been some great matches. Some of these players are incredible to watch; Roddick's blistering serves, Federer's dominance, and Serena's power. There are plenty of others, but that's getting away from the point of this post.
What I want to know is this; what's going on in Russia? Is there something in the water? Are they adding some secret ingredient that increases uncommonly beautiful tennis players? I don't mean to sound like a perv, because I'm not. Weeell, maybe .... Anyway, watching the matches with Tatiana Golovin and Maria Sharapova got me to wondering. First Anna Kournikova, and now these two. And, these two can play! Obviously, Anna could at one time or she wouldn't have made it to the semi's. But these two have alot of potential. Whoa! Just wait a couple more years!
And, no, it's not because they are blonde. This gentleman does not prefer blondes! It's just because they are going to be a couple of hotties!:)
Not that there aren't any hotties here, there's plenty, but it makes you wonder if you were born in the wrong country. Then you realize, they're all moving over here! Keep on coming over, and bring some of that water with you!!