<! -- Start Body of Page -->
June 25, 2006
Making A Lemur Horny
Since I asked Zonker and RSM to stop by and post when they've got a chance, I've received some strange Google hits. Which really should be no suprise, after the way they frolicked through here, spreading their seed. (For google bait, you pervs.) So, I thought that maybe I would try to help out those folks who were led here, thinking that they would find one thing, and finding another. It's only polite.
Take, for instance, the "horny female lemurs" that Zonker left as bait. Believe it or not, I did have a hit for a "horny lemur." Granted, it was probably one of the four or five regular readers looking to see how well Z-man's prank was working. But, while it's not the worst of the hit's I've gotten from his posts, I figured that I should do something for those freaks that truly are looking for a horny female lemur. Innocently , I might add. (Yeah... an "innocent" looking for horny animals. Right.)
Lemurs, in nature, are not horny. I discovered this, as I looked at various types of the animals. You won't find them horny... you have to make them horny. So I found a female that looked pretty easy to work on, and got busy on her.
Never having done this before, it took awhile. I'm not very good, I'll admit. About the time that I thought I was making headway, I'd make a wrong move and screw it all up. I tried over, and over, and over again. I about ruined her. But all at once, I figured it out. And once I did, I had her horny in no time.
Check it out...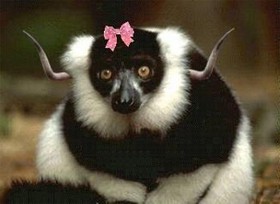 It was easiest to make her horny this way... trying the obvious cross between a longhorn and a ruffed lemur resulted in a pile of dead lemurs.
Breeding for RSM's lesbian cat sisters is working just about as well, but there are less crushed animals...
Posted by That 1 Guy at June 25, 2006 09:16 AM | TrackBack

<! -- End Body of Page -->