<! -- Start Body of Page -->
August 15, 2006
Response
I'd like to respond to some of the comments for my Lucky Days post. Not that it matters...
Jerry thought I was wearing boots on the boat. In fact, I was not. I was wearing them the following day. Perhaps my wording implied otherwise. It definitely got folks thinking... Oddy!
And, "No," Oddybobo, I was not wearing shorts with my boots. Not exactly. And what's wrong with me dressing like this guy*?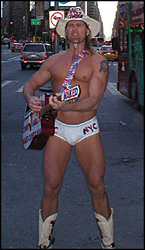 Granted, I wear ropers, not the tall boots. And I wear a black hat and bungies. Er... or I would, if I dressed like that.
And those suggesting I need a beer (Richmond, Tree Hugging Sister), you guys don't even know. I haven't imbibed much since being down here. As a matter of fact, I'm thinking that this may be part of the problem. Heheheh...
Gotta have a few here, and soon, or I may end up quitting. And nobody likes a quitter...
*Now you ladies can't say I didn't post anything for you!
Posted by That 1 Guy at August 15, 2006 09:02 PM | TrackBack

<! -- End Body of Page -->