<! -- Start Body of Page -->
February 05, 2006
MmmMartina
I've mentioned before, I don't really pay much attention to tennis, but I do try to catch Wimbledon and the French Open... especially the women's matches. Seems that the women's game is more strategy and finesse, rather than the power of the men's game. And I've gotta admit, some of those women are pretty damn hot.
Anyway, I've watched enough that I know quite a few of the players. Not all of them, but many of the up and comers. I've been watching since around '90. Mmmmmm.... Steffi Graf..... er... distracted again.
I remember when Martina Hingis first appeared on the scene. She never really impressed me looks-wise, but she could definitely play tennis... some powerful tennis. She won 3 straight Australian Opens between '97 and '99, with titles at the US Open and Wimbledon in '97. She was a dominant player, holding the world no. 1 ranking for 209 weeks total.
However, she started suffering injuries and never seemed to play with as much dominance as she did early in her career. She retired in '03, with a failed attempt at a return in '05.
I recently heard that she was attempting another comeback, but I hadn't paid any real attention to her. Then I heard that she made it to the quarterfinals at this year's Australian Open. Next, I heard that she defeated mmmmmmmmMaria Sharapova, a hottie and no. 1 seed, at the Pan Pacific Open in Tokyo. Hmmm... says I. I decided to look into this.
Holy. Mother. Of. Gott!!! She's hot!!! Hingis, that is.
Whenever I heard her name, I thought of her looking like this. A pudgy girl. Heheheh... nothing like that today, folks. This is more recent. Unsure, I found another pic.... no doubt. Mmmmmmmm....
Don't really know what the point of this was, other than to point out that Hingis is no pudgy kid, but a damn hot woman. Heheh... and I'm risking sounding like an old pervert.
Hey... gotta run. The Super Bowl is about to start. Can't miss the cheerleaders....
mmmore Martina...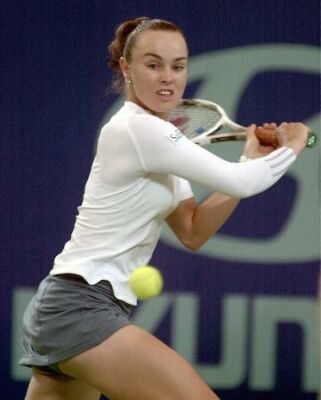 Posted by That 1 Guy at February 5, 2006 05:06 PM

<! -- End Body of Page -->