<! -- Start Body of Page -->
August 17, 2006
Fauxto Pt. 2
What the hell was that gnome picture all about? Well, it had just a tiny bit to do with staged and photoshopped fauxtos, and a bit to do with Ogre, who gave us the game, and it's rules:
I think it's time the Garden gnome joins the battle. Here's the rules: Take any alleged "real" photograph from one of the propaganda news agencies and then add the gnome.
I don't know how many more entries are out there, but there were a few. One each from
Ogre
,
Murray
, and
Team Swap
. (Oh yeah... it's not about spoofing the war, it's about spoofing the photographers.) Some pretty damn funny stuff, if you ask me. Even if you don't ask me, it's funny.
Granted, you can tell that some of these were photoshopped. Murray's entry points out our flaws. But we've staged no pics. And I'm going to expose some photoshopped AND staged photos. These photos can be seen as published at the zombie time site. When this imagined expert took a second look, he discovered that gnomes actually were at work behind the scenes.
This photo is ovbiously staged. Notice that there is no dust on this "victim." Other than that, it looks very realistic. Job nicely done.
Pic. 2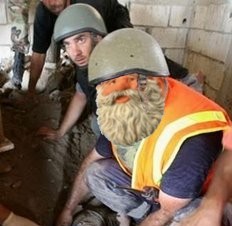 ©Rotters
The "Green Helmet" unmasked...
Anyway, this will conclude my exposure of fauxtos, staged or shopped.
You're welcome.
Posted by That 1 Guy at August 17, 2006 05:31 PM | TrackBack

<! -- End Body of Page -->