<! -- Start Body of Page -->
January 21, 2006
Target Practice
Earlier, this post over at blog-sis Bou's busted me up, and led to me posting a story just For Bou. I said I was going to tell some more stories, but I've been forgetful...
Yesterday, I got an e-mail that reminded me of one of the stories I was going to tell...
Long, long ago, it was the "in" to make darts out of pins or needles. You'd take the eraser off of a pencil, shove the pin through, and make fins out of scotch tape. I'm sure almost everyone's done it, but now you know if you didn't before.
Anyway, I was a journeyman dart maker... there were darts all over our house. I was constantly improving the design of my darts, and my brothers and I were throwing them at anything and everything... we ended up perforating a family portrait because it was funny at the time to see a dart stickin' out of your sibling's head. Didn't take long, and just hitting a picture was no longer acceptable.
I had made up another batch of my world renowned darts, and was in need of testing them. The Perfect One and I convinced R (my youngest brother) to be the test subject. Much like Bones, Bou's youngest, R was all for it. So we ended up drawing up a bullseye on notebook paper, and having R hold it against his ass. Heheheh... the screaming damn near got all of us in trouble! But at least he wasn't the test subject for the darts I made out of straightened fish hooks... that was ugly.
Hey, at least we didn't play any games like the one found in the extended entry...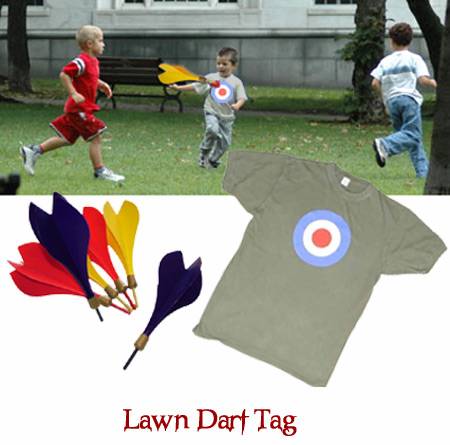 Thanks to Tammi for the pic...
Posted by That 1 Guy at January 21, 2006 08:25 AM

<! -- End Body of Page -->