<! -- Start Body of Page -->
September 11, 2006
Rahma Salie
The attacks of 9/11 will never be forgotten, nor will most of us forget what we were doing, where we were, or the feelings that flooded through us when we first heard the news. Our thoughts, fears, feelings, and ideals were solid, etched in stone. For some of us that hadn't known someone murdered that day, time has a way of wearing those firm and definite edges away, dulling some of those memories. Not good.
I did not know anyone taken that day. But I heard about a special project, 2,996 Tribute, and signed up. I drew Rahma Salie. I've only "known" her for a couple of weeks, but her death has affected me. Deeply.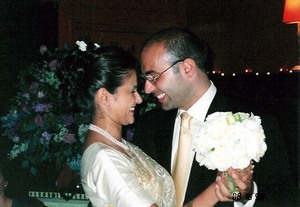 Rahma, of Sri Lankan descent, was born to Yuseff and Haleema Salie in Japan, February, 1973. She went to an international school there, before coming here in 1992, to Wellesley College, where she majored in International Relations, and Japanese studies. She was a consultant in an IT firm, and rose to the position of Chief Operating Officer.
While attending Wellesley, Rahma met Michael Theodoridis, who was attending Boston University. They fell in love, and Michael, a Greek Orthodox Christian, converted to Islam before marrying his bride in 1998. "They were very much in love. They wouldn't do anything without each other," her father said. "There was never anything but a smile on their faces." One article I read called them inseperable.
When I first saw the picture of Rahma, I couldn't help but grin. You can see the love she's got for her husband, but you could also look at her, and just know that she was someone that you wanted to know. Needed to know. One of her Wellesley schoolmates said in a forum, "I bet you could also hear the sound of her laugh while looking at her picture." I could.
She was a very outgoing person, leaving a positive impression on all that she met. Vibrant, successful, hardworking, and driven. Sweet, radiant, loyal, and loving. All words that were used to describe her. I really would have liked to meet her.
On September 11, 2001, Rahma and Michael boarded American Airlines Flight 11, heading to Los Angeles for a friend's wedding. They were not alone. Rahma was seven months pregnant with their first child.
Many of the sites providing lists provide vague info, such as: Rahma Salie was from Boston. Or, Rahma Salie, expectant mother, and consultant. It bugs me. She deserved much more.
Rahma, you will not be forgotten by me. I wish I had known you, sister.

If someone reading this knew Rahma, and has more info, please let me know. Thanks.
Joe
Angie, of My Life & Chaos, has a tribute to Rahma's husband, Micky.
Posted by That 1 Guy at September 11, 2006 11:49 PM | TrackBack

<! -- End Body of Page -->