<! -- Start Body of Page -->
March 02, 2006
Together
I've mentioned it before, but growing up, there were nine of us cousins who were very tight. Four in our family, four who lived within five miles of us, and a cousin who was always coming out to the farm to see us. We had some great times, and even today, we are close. It's something that I always planned on doing were I to reproduce... keep my kids close to their cousins. I realize that their closeness depends on their individual personalities, but always doing things with my family would help, too. This past weekend was a fine example of that.
My mother wanted to take a trip as a whole family, as it had been a very long time since we were able to get everyone together in one place. It turned out to be a hell of a lot more fun than I had thought it would be, and most of that was just watching the nephews and niece playing. My sister's two boys, and my brother's little boy and girl. Sis' kids are a couple of years older than the Perfect One's perfect spawn, and they love to be around their little cousins. It was funny as hell to watch them...
Below is my sister's yougest, with TPO's youngest...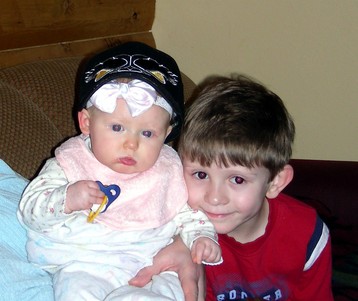 Click to swell... on all pics
Here's Sis' two with my niece...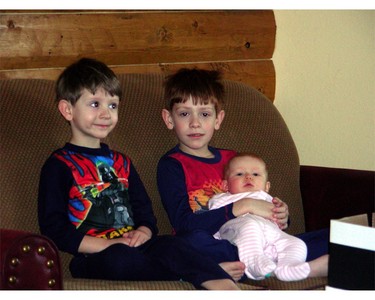 I tried to get a pic of TPO's little madman with his cousins, but that was damn near impossible... here he is charging at me while I was playing with him...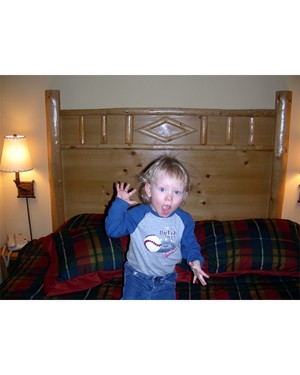 Watching them in the water park was great, too. The little madman was so excited (his first time at something like that) that he looked like he was floating over the ground as he kept running back and forth between my brother and myself so we could send him down the water slides. The little dude is 17 months old, and he insisted on going down the slides that three and four year olds were afraid of... he's got no fear at all.
My sister's eldest kept wanting people to go down the Howling Tornado with him as he was just tall enough to be allowed to ride. I went with him twice, almost flipping the first time because his little body was not near enough to counter balance me. The second time, we almost flipped again, but that was because there was four of us on the tube, and we had almost matched the seven hundred pound weight limit... we gathered so much speed that we went too far up the wall! Now that is the way to do it... if you ride that, max out the limit... you'll haul some serious ass!
Meanwhile, Sis' youngest and the madman were flitting across the floor, splashing in the water and being splashed. I wish I would have brought the camera down there, but I was worried about it getting ruined. Not to mention that I had half the kids in the water park trying to chuck harpoons at me, and calling themselves Captain Ahab.
As for the niece, hey, she's only six months old... it's not like she was running off to play. She went swimming and seemed to like it... great big smile... but she was tuckered out too soon. What a baby!
Yeah, it was good to see the kids having such a good time, and being so close. Ma has already determined that this will be an annual event, and we're all looking forward to it. Just as I'm looking forward to watching our family's kids grow up close like we were able to do with our cousins...
Posted by That 1 Guy at March 2, 2006 12:05 PM

<! -- End Body of Page -->