<! -- Start Body of Page -->
August 26, 2006
SRV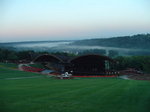 Sixteen years ago, today...
It was a Sunday, and a pretty decent day. A friend and I had been talking about going to catch a big show less than forty miles away. We had to work on Saturday, and after the shift was over, he told me that he didn't think he'd go. He had his kids for the weekend, and he didn't feel like trying to make the arrangements for them to get back to their mother's house. We had planned on buying our tickets there, as you could occasionally get some good seats if you waited to buy the day of the event, so we weren't out any money.
For most of the day, I kept thinking about the show, and how great it would be to go. But in the end, I didn't want to head in there by myself. Like a long trip through the mountains on a bike, music is great alone, but it's even that much better when you've got someone with you. I passed it up, and made a mistake.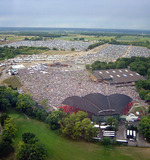 The show turned out to be one of the best that many had seen. The guitarist that I had wanted to see, in particular, was phenomenal, and the evening was capped off with a jam session that saw some modern blues greats playing a 20 minute version of "Sweet Home Chicago." A favorite song of mine, I'd have loved to have been there just to see that... Eric Clapton, Buddy Guy, Robert Cray, Jimmie and Stevie Ray Vaughan all jamming away. Buddy Guy would later say, "It was one of the most incredible sets I ever heard Stevie play. I had goose bumps."
It was SRV's last show... he and four others were killed early (near 1 am) in the morning, August 27, when their helicopter crashed into a ski slope at Alpine Valley, in East Troy, Wisconsin. One of my old stomping grounds. (BTW... these pics of Alpine Valley are just to show you the venue. They are not from that show.)
I first heard of Stevie in '86, when I happened to catch his video for "Superstition." While the video is kinda funny, the sound of the guitar just blew me away. I ran out immediately, and bought "Live Alive" on cassette. After listening to that tape until is started to stretch out, I bought another copy, along with "Texas Flood," "Couldn't Stand The Weather," and "Soul To Soul." When "In Step" came out, I had it within a day of its release. I loved his music, and his playing that much...
I was lucky enough to catch him live. While I missed his '86 appearance at Summerfest in Milwaukee, I did catch him the following year at the Wisconsin State Fair. After watching him play, I wanted to be SRV... I'd never seen anyone play like that before, and I just watched in awe. Behind the back, behind the neck, playing with his teeth, ripping off a solo with one hand... while the guitar strap was loose. He did it all. Yep, those are not unique things, but, while they were impressive as hell, his stage presence was incredible. You felt like you were watching a once in a lifetime event when he was up there. You were watching the equivalent of Moses getting the tablets handed to him. Okay... maybe not quite that, but it was damn close.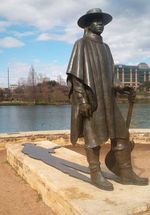 When I came into work on the 27th, my friend, Guillermo, met me with a newspaper in his hand. He looked sick. He asked if I had gotten to see the show, and then handed me the paper, open to the article announcing Stevie's passing. I did not cry, but it was an emotional slam to the gut. I thought that I was going to puke. I was in shock...
I always thought that folks who carried on about celebrity deaths were idiots, but I disovered that his death affected me in much the same way. But, while I felt bad for the man who had finally overcome his demons, and seemed to have his life back on track, it wasn't all about him. I mourned him. But I mourned also because of what he meant to me... what his music had meant to me, and all of the memories that were associated with it. I cannot accurately tell you how I felt.
This spring, while at the blogmeet in Austin, I was able to go visit the memorial statue alongside Town Lake, or what I kept calling "the river." It was a very cool thing to see. Chrissy was kind enough to snap some shots and send them to me, but I've lost track of where they're at right now. I do know that I was trying not to grin like an idiot when she took them, but I'm not sure if it worked. Heheheh...
I was going to post the video for "Little Wing" and part of "Third Stone From The Sun," but the heavens just told me to post its link, and to post this instead:

As the sky pours down its tears, Stevie, I raise a toast to you: Thanks for so much. Rest in peace, my brother.
When I first started writing this, the sun was shining through the clouds, and when I hit the part where I was reminiscing about the State Fair, it started to rain. By the time I was finishing up, the sky was sobbing... just pouring down. I'm glad I found that clip.

I think God's even a bit sad that he took him away so early...
Posted by That 1 Guy at August 26, 2006 11:16 AM | TrackBack

<! -- End Body of Page -->