<! -- Start Body of Page -->
August 21, 2006
Near Death
Not being used to actually working, much like my brother in unemployment, I injured myself Saturday. It is quite the disgusting injury, but I took it in good humor. Between sobs, I was actually laughing. Or crying so hard I was laughing. I even made the comment to my 'boss,' "This is pretty damn sad... check it out."
The injury is in the extened entry. I'm warning you folks... this is NOT for the faint of heart.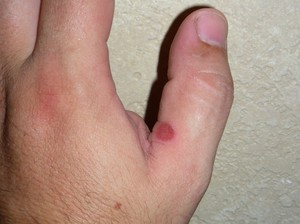 Click to view carnage up close
Sweeping can be a very dangerous job. Leave it for the professionals.
Posted by That 1 Guy at August 21, 2006 08:45 PM | TrackBack

<! -- End Body of Page -->