<! -- Start Body of Page -->
July 29, 2006
AFV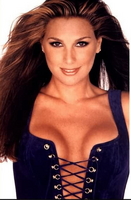 I got stuck watching America's Funniest Home Videos last night. I won't say that I hated it, because I did laugh out loud a couple of times, but it seems to be the same as the last time I watched it... gott knows how many years ago. Brutal shots to the 'nads, cute babies, old people with their clothes falling off... still the same as when BOB SAGET!!! was on the show.
Now it's Tom Bergeron. Just not funny. I don't think it's his fault, but the writers. BOB SAGET!!!, do his lines suck! His best lines are improv...
I was watching for a bit when it hit me... the show was missing something. DAISY!!! She wasn't on there! Well, hell... she hasn't been on there since 2000. Heheheh... I told you it was a while.
The show was never spectacular, even in the BOB SAGET!!! era, but it sure was nice to look at watch when Daisy was on the show.
Mmmmmmmmm....
Posted by That 1 Guy at July 29, 2006 09:30 AM | TrackBack

<! -- End Body of Page -->