<! -- Start Body of Page -->
April 24, 2006
Turn On?
The other day, I was reading over at Catfish's, and he had a post up about a very nasty turn on. Probably NSFW to click on that one... I'd think you'd be alright, but you never know. Hell, I'M banned from some places. That's just sad!
Anyway, I'd heard of this particular turn on, once before, but I thought it just a gross out tactic. And instead of using plexiglass, the guy I talked to said he used a glass coffee table. Well, I'm must be a bit of a prude, because there were more than a few folks that had heard about it, including one of the waitresses at the local establishment. She not only had heard of it, she'd done it! Okay, just kidding... she reads this site occasionally. I had to give her crap.
I decided that I'd check into a few things, and I've got to tell you folks, the human race can include some pretty nasty bastards. Seriously. One of the things that I discovered was folks who got off on choking... and not autoerotic asphyxiation. Nope. This would be choking by shwanz... 'til barfing takes place. Yeah.
Now, this is one of those things where I'm at a loss. Having someone yak on your crank is a turn on? Hell, stomach acids jack up the enamel on your teeth... what would it do to skin in more sensitive places? And it ain't just a pleasure for the dude... the ladies get off on it, too. As a matter of fact, I stopped looking around too early. I was talking with someone last evening, and he said that there are some instances where there are two women... one to hurl, and the other to catch. Or should I say, EAT!!! Why??? Perhaps the King of Perversion, Harvey, could shed some light on this, if not some of you...
I would have linked to a picture, but then I kind of like having this blog safe for most folks to check out. Then I started thinking, "Hey... these people really need to know about this stuff," so I scurried around until I could find a picture for you that is totally work safe. Really. You can trust me on this one. I just put it below the fold to keep from distracting you.
Below, you will find: "Hot Chick Puking"... and liking it.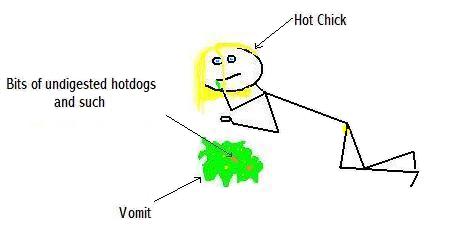 Posted by That 1 Guy at April 24, 2006 05:48 AM

<! -- End Body of Page -->