<! -- Start Body of Page -->
February 15, 2006
Hit and Retreat
Bingley, over at Coalition of the Swilling, has put out a call for a Support Denmark Dinner, this Saturday, Feb. 18. I'll be at Howl on the Prowl, but I'll try my best to contribute. Most likely in the alcoholic beverage department... more info here...
Map yourselves... Don't make me come after you...
Drank a strange brew last night... Garden Fresh Hot Sauce... long story... too many beers beforehand...
I haven't blown you folks off. I'll get caught up on emails soon. Really.
Oh, please tell me what this is...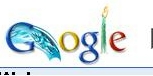 I know what it's
supposed
to be, Google's nod to the Olympics, but it sure looks like something else... a used something else...
Posted by That 1 Guy at February 15, 2006 10:30 AM

<! -- End Body of Page -->