<! -- Start Body of Page -->
February 03, 2006
Queer Eye For The Blackfive
For those of you who don't know, Matty O'Blackfive is probably going to be making a television appearance this weekend, on CNN's On The Story. Notice... I said "probably." Matt says, "Chances are very good..." Hopefully, this do come about...
In order to avoid another fashion SNAFU like the "infamous green shirt" incident that left many questioning Matt's personal preferences, he's gone to the experts for his wardrobe advice.
"These guys really know what's gay and what isn't," said an impressed Blackfive.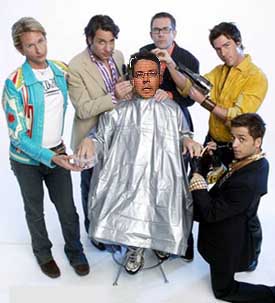 Thanks for the photoshop job, Bloodspite!
Posted by That 1 Guy at February 3, 2006 01:22 PM

<! -- End Body of Page -->